Even a home can get 15 minutes of fame.

HGTV and Frontdoor.com have announced The Doory Awards.
The Doory Awards is a nationwide contest where people across America will vote for their favorite real estate listings. There are 20 categories, for properties with list prices ranging from under $250,000 to over $10 million.
FrontDoor, which is affiliated with HGTV and operated by Scripps Networks Digital (which also operates HGTV.com, FoodNetwork.com, DIYNetwork.com, and FineLiving.com, among others), is also looking for unique listings like tiny homes, celebrity homes, and my personal favorite: high-tech homes.
Properties with unique kitchens, bathrooms, outdoor spaces, curb appeal and more will also be crowned.
Starting April 2, HGTV will begin airing television commercials directing consumers to the website and Facebook page to vote on their favorite homes. After voting, there is also a chance to win money!
Normally, promoting your listings on Facebook and Twitter is not a recommended approach. However, when you have a consumer-centric brand like HGTV associated with a contest, it changes the dynamic. Take advantage of this opportunity to co-brand yourself next to the HGTV brand.
Once your listing or listings are up on FrontDoor, grab the link and have some fun. Facebook it, tweet it and email your database asking for support. If your sphere of influence helps you win a Doory, that will create a great buzz for you locally.
People help support what they feel like they helped build. Winning a Doory could tremendously add to your digital footprint online, something many agents have struggled to grow.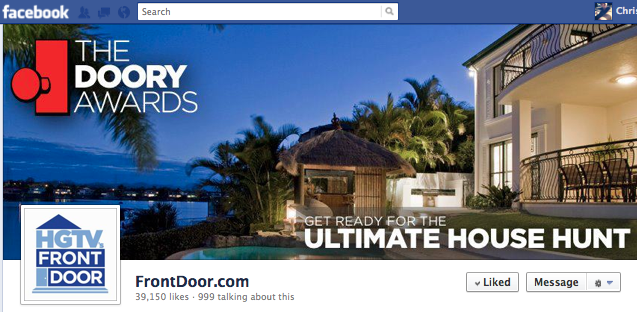 Marketing that one of your past listings won a Doory, with the accompanying television footage to prove it, would certainly be a nice arrow in any agent's digital marketing quiver.
A previous contest run by HGTV, Dream Home Giveaway, boosted the traffic to Frontdoor.com  by more than 1,500 percent month over month.
Here is a brief video explaining the contest in detail:
Note: Your listing must have appeared on Frontdoor.com between Jan. 1, 2012, and March 31, 2012, of this year to qualify. Individual agents cannot submit a listing unless the broker participates or unless the listing is provided to FrontDoor via a third-party syndicator.
The nomination process ends March 31st.
To see all of the categories and to submit your listings, visit FrontDoor.
Good luck, and if you win please let us know!