In the last few weeks, Facebook has made some great new updates available to page admins. They are definitely making it easy for page admins to get the help and assistance they need, get their questions answered, and make their page as successful as can be. In the past, when a page owner was looking to advertise on Facebook, or install a certain app, it took a little bit of "hunting and pecking."
Now, on the new admin panel interface, there are a number of extremely helpful links to help you develop your page.
Here is a screen shot of the back-end of the Inman News page: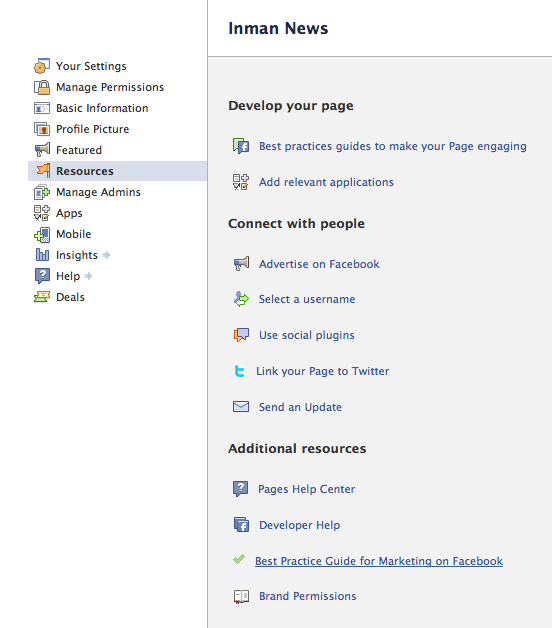 Once you click on "resources," you can see there are 11 links and resources available to page admins. Many of these were available to Facebook users – and were in various places on Facebook – but to have them in all one, organized list just makes sense!
Here are some of my favorite key hightlights out of the 11 links:
The 1st is the top link: "Best Practices Guides to Make Your Page Engaging" – which takes you to this page: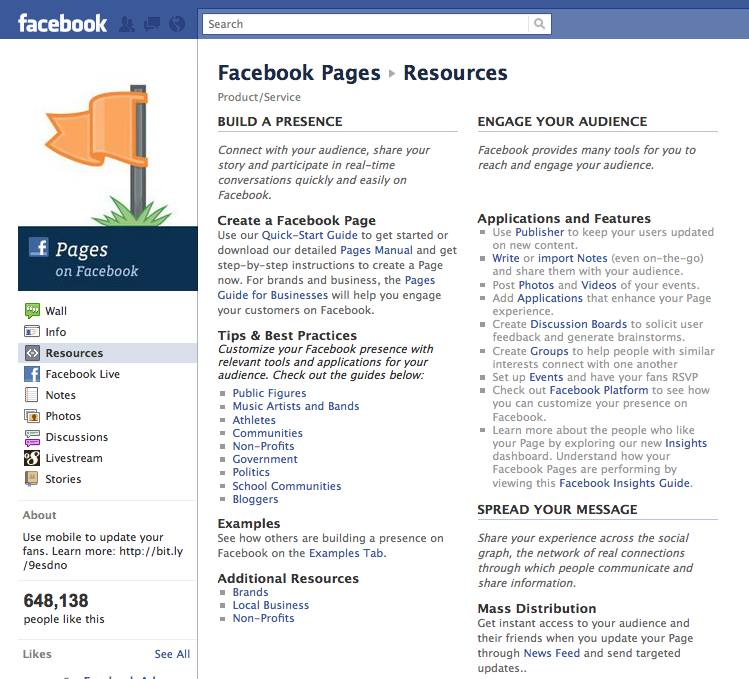 This is a page that I refer to often on Facebook to find out about the latest changes and updates to Facebook pages. This page is chock-full of awesome tips and tricks like the pages manual, the insights guide, bloggers guide, and so much more. If you are a real estate agent just building your Facebook page, or need to spruce it up, I can not recommend enough checking out these resources!
Additional links on the back-end of your Facebook page include a link to set your username, add a social plugin to your site (i.e. adding the "like" button and other options) and the ability to send an update to everyone who has "liked" your page. By the way – are you sending updates to the people who like your page? This is a quick and easy way to send a custom message to a select group of people who like your page (geographically) or to all of the people who like your page.
Overall, I love with the new interface of the admin panel. I can find what I am looking for quickly and easily.
Facebook is smart – I'm a lot more likely to engage and add on additional resources to my Facebook page if they make it easy for me! This is a great tip for real estate agents – make it easy for people to contact you, to navigate your site, etc. Keep it simple, right?
What admin tools do you use the most from Facebook? I'd love to hear your thoughts – please post a comment below!
Katie Lance, Social Media Director, Inman News, @katielance