Last Tuesday was Agent Reboot™ L.A. – this was the 2nd in our 12-city 'roadshow.' We had hundreds of agents at UCLA who were excited to learn more about social media, tech tools, online marketing and more. Pens were flying as agents took pages of notes. Check out our Facebook page for pics, videos and posts from the event and info about upcoming events.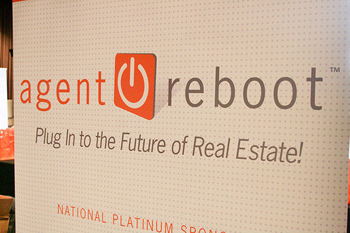 We also had a number of people who had already attended Agent Reboot in San Francisco a few weeks ago, but also came to this event. Holly Schwartz, @hollyschwartzOC – Social Media Manager at Torelli Realty posted a great post event wrap-up and had this to say:
"The learning never stops… Fantastic because I enjoy the journey! I thought my 7 pages of notes and non-stop Twittering and networking at the last conference just 2 weeks ago would make this conference more of a review… Nope! The Inman News team added content, incorporated different speakers, and even threw in some technology that didn't exist 2 weeks ago… Wow!"
There so many great soundbites from Agent Reboot L.A.  Below are 10 ways that real estate agents can take their business to the next level – and beyond!
Eric Stegemann, Director of Business Development for Tribus Real Estate Technologies (@EricStegemann) was on a panel: "From Clicks to Closings: Turning Your Online Marketing Strategy into a Lead Machine." Some of his key points were:
Have systems in place to follow up with your contacts. Use drip and blast emails to keep up with clients and remind them of who you are.  According to N.A.R. 87% of client at closing are happy with the experience but only 6% of transactions are with the same REALTOR® again.
Have your systems be integrated. Don't go to 15 vendors to buy various products.  If they don't talk together you won't get the functionality out of them.
Being a REALTOR® in social media should be about taking relationships created online and bring them offline. The best strategy for REALTORS® in social media is to remember to blend the old world with the new.
Being found online is changing. It's no longer that you can pay people to search engine optimize your page.  Soon the amount of people engaging on and about your page in a meaningful way will be the new rankings.
Ted Mackel, Realtor at Keller Williams Realty & blogger at homebuysblog.com (@RealtorTed) was on a panel: "Mastering Social Media to Expand Your Reach Online." Some of his key points were:
The importance of understanding that static promotion (i.e. in the style of Yellow Pages or brochures), does not work today and people go to Google for answers. They are looking for richer information than traditional one dimension static advertising.
Agents have a ton of expertise and knowledge. leverage a blog/website to show off that knowledge.  That blog/website becomes a virtual resume for your clients, potential clients and past clients.
Facebook is now becoming a first point of contact with your sphere of influence. Facebook can be used effectively to create the touches to your sphere but your blog/website needs to be your foundation as those thinking about doing business with you or referring you will check you out professionally off Facebook.
Use Twitter to monitor the discussions about your market area. Ted does this in Simi Valley.  If he sees people looking for information about his market area (i.e. recommendations for auto repair), he tweets back a recommendation.  He tries to be "the connector."
Linsey Planeta, REALTOR® and Broker Owner for Orange County at M Realty Orange County (@linsey) and Stacey Harmon, Founder, AgentApplause.com (@staceyharmon) were on a panel together: "Case Study: Managing Reputation and Content on the Web" Some of their key points were:
Have a Hub. Agents should have an online hub for their business activities.  EXAMPLE: Linsey's hyper-local blog. The site is built in WordPress and she uses it as a hyper local blog that she writes a post on only 1-2 times per month. The rest of the content is fed in from her IDX provider (active listings), and market statistics that she is already compiling for listing presentations and postcard campaigns.  She is now just posting that information on the website and it is available any time consumers want to see it. She also has floor plans posted on the site and receives a lot of traffic from that.  They recommended that WordPress is the best tool for the execution of this strategy, and suggested for the initiated, Wordress.com was the place to start to learn the basics.  Once comfortable, agents can graduate to WordPress.org (the self hosted solution) which will allow the addition of items such as IDX integration.
Monitor your Online Activity. There are many free tools that allow agents to monitor their content and reputation online.  This is helpful for agents who may be concerned about negative feedback on Yelp or a Facebook page. It also helps them to be timely in a discussion if they are mentioned in a blog post or article, resulting in potentially positive PR for them.  They suggested they put emotions aside and address any online criticism in a prompt, classy way that encourages direct contact with the agent via direct email or phone number to discuss any further concerns that they have.. Three easy tools to use are: Google Analytics, Facebook Insights, and Google Alerts
Be Consistent. In whatever online marketing the agent chooses to participate in (they don't have to do it all), they should be consistent in their branding an username selections which play a part in the overall professionalism perception that people have of them.  Linsey mirrors the branding she uses on her website and blogs with the postcard, mobile application, and business card that she does.  She also is consistent in the usernames that she uses for her brokerage accounts – the username is MRealtyOC on Twitter, Facebook which is the same as the brokerage URL www.mrealtyoc.com.  For her personal accounts, she sticks to using her name.  Sites like www.checkusernames.com can help agents to determine if their desired username is available on the various social networks.  Also, sites like Picnik.com offer free photo manipulation tools which help agents maintain a consistent visual look in the sites they participate in – at the minimum with their personal photo often require sizes/dimensions that vary from site to site.  Picnik will allow them to easily adjust the sizing of their photo to be the recommended size of whatever site they are posting the photo to.
In addition to the points above, Linsey made these points:

The practice of real estate – procuring business, selling homes, servicing clients – hasn't necessarily changed that much, but the evolutions in technology can help to enhance facets of an agent's practice. Start to bring in the pieces of technology that can help you enhance the places that you are already experiencing success.
You have to have an online presence, or hub, that is reflective of who you are and your real estate practice. More and more, our clients, our sphere of influence, our family are finding themselves online for education, research, and entertainment.  If an agent isn't representing themselves online, where their potential clients are, certainly those potential clients are finding agents that are.
When asked about the benefits of Agent Reboot, Linsey said this:
"Often agents feel a sense of overwhelm wondering if they need to be blogging, on Facebook, on Twitter tomorrow.  That type of overwhelm can be paralyzing.   Rather than taking it all on tomorrow, they can isolate small places to embrace the new technologies in their business where it makes the most sense for their individual practice.  Agent Reboot is a great way to identify the right place for that individual to begin."
This was just a taste of this event! Next stop for Agent Reboot is Seattle on 8/18 and then San Diego on 8/25 where our awesome emcee Nicole Nicolay (@nik_nik) will be ROCKIN' it again!
Did you attend Agent Reboot? Would love your feedback below! Weren't able to attend? What do you think of the points I listed about – leave me a comment below!
Written by: Katie Lance, Marketing Manager, Inman News