Guest post by: Matthew Smith, Public Online Marketing, Dell
Go ahead and open Google and search for "your city" real estate agent. You should see an image like this: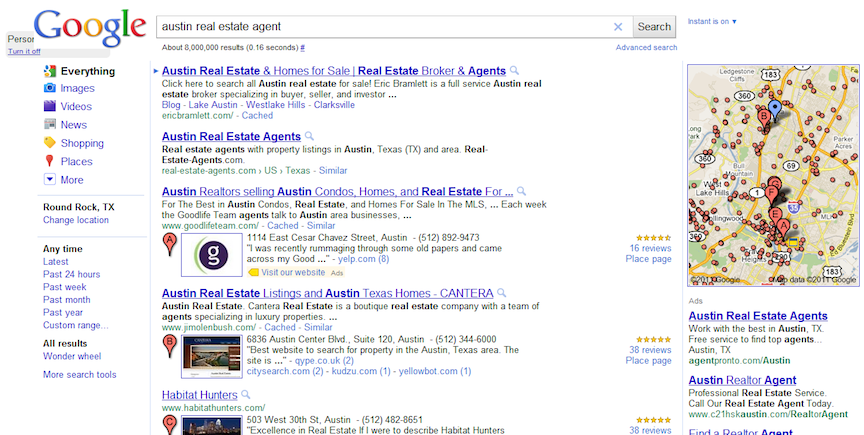 These results you are seeing are called Google local results. They are local businesses in the area Google thinks matches whatever term you just searched for. As you look over these results think to yourself, do you see your real estate company or your competitors? If you don't see your company, you are missing out on a free opportunity to attract leads. To give you an example of what you are missing out on the word "Austin real estate agent" is searched 210 times in Google every month!
In this article we will teach you how you can rank for your local terms to and attract those potential customers over your competitors. We will first cover how to get listed in Google local and then how to rank above your competitors.
Firstly you need to go to Google Local. To register your business you will need a Google account so create a free one if you have not already. Once your account is created, you will be taken to a screen that asks for your country and telephone number. Make sure to put the phone number you would like listed in Google maps. Google may actually call this number to verify the business listing and this number will be shown in the Google local map. Once you have inputted your phone number, Google will check to make sure that number isn't already associated with another account; if it is not you will be taken to this screen to create your business listing.
Company – Simply add your business name.
Street Address – Here you want to add the address of your business. If you do not have a physical address you can actually just put your home address and set Google local not show your address on the maps.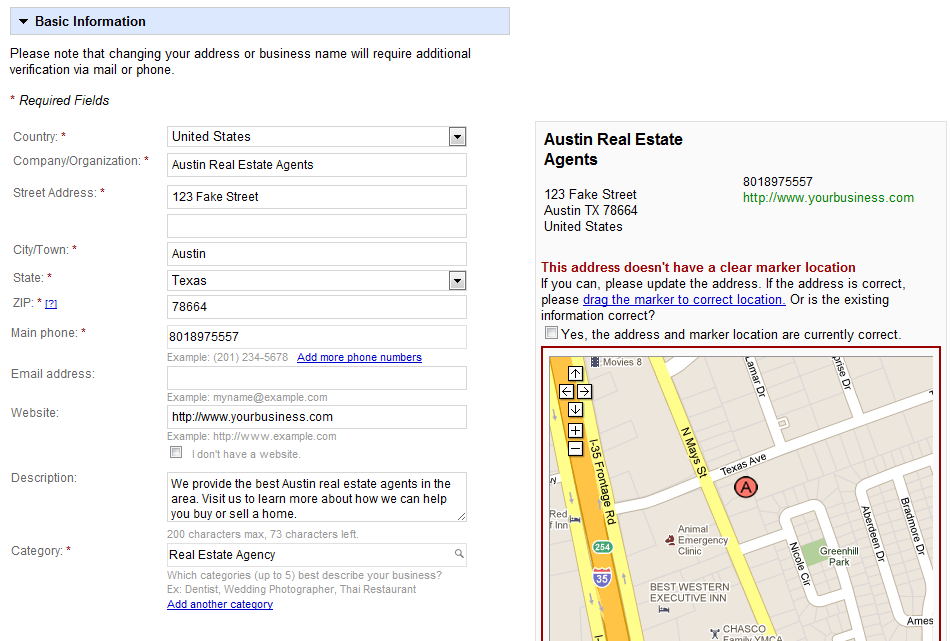 Main Phone – This is the phone number you want your customers to call when they see your listing.
Website – Just put your normal website.
Description – In this space you want to add a description of your business that includes the city you are targeting. So for my example I am targeting Austin real estate agents. Therefore in my description I said we provide the best Austin real estate agents in the area. This inclusion of "Austin" tells Google that my listing is specifically related to that search. Think of it like this if you searched online for Austin Texas Pizza you wouldn't want to be shown pizza places in Dallas. Saying your local area in the description helps show users and Google what your businesses focus is.
Category – Here you want to add the 5 best related categories. So for the first category you would most likely put Real Estate Agency.
Service Ares and Location Settings – Here is where you will set what geographic areas you serve. I mentioned in address that you could turn off your location, and this can be done by checking that do not show my business listing box.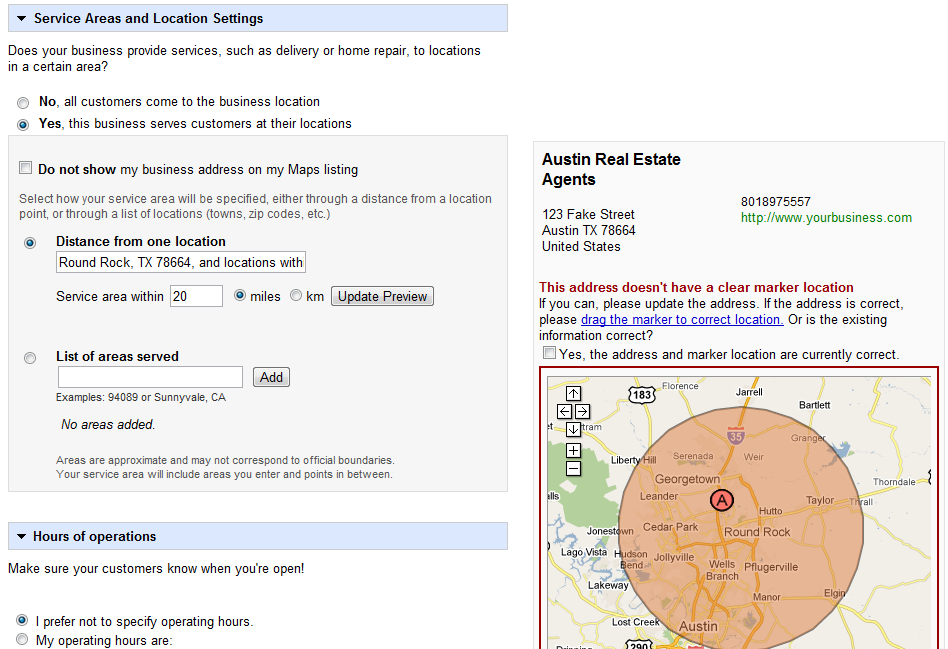 However, only set that if you do not have a physical location. You should always set your areas served or distance from one location. If you type your zip code in the distance you can actually pin point a geographic area you work in. That way you can ensure your listing is only being shown to people that live in the general area as you.
Hours of Operation – You do not need to put your hours of operation unless you want to. However, if you do have specific hours and a physical location people can visit I would add it.
Photos – Here is one of the tricks to ranking well in Google local. You need to add business photos. This can be as simple as your logo, the geographic area you serve, or anything real estate related. If you look at the first image in this article you will see a few of the listing show fancy buildings. You want this image to pop and make your listing stand out. Google also likes listing a lot more that have pictures versus those who don't. I would recommend adding at least 3 pictures to your page.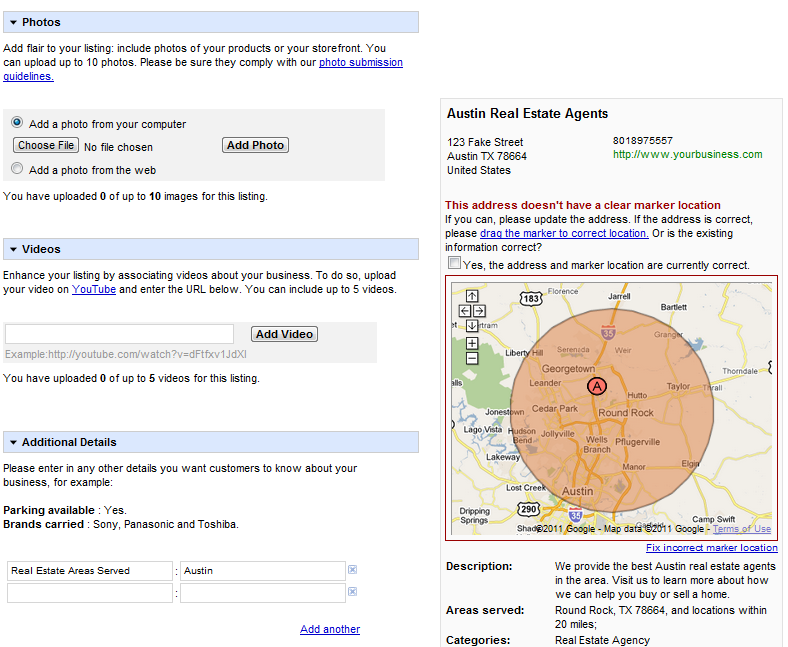 Videos – Another trick to help you rank in Google local is to add videos to your business listing. A great video would be to quickly film your building and your interior space and then upload it to YouTube. You need to understand that Google wants to show local listings that actually appeal to customers. They do not want to show a local listing that has no profile flare or information people will find interesting.
Additional Details – Here you will add a few additional details about your business. These little additional details actually help you rank in Google local so it is important to complete. For my real estate example I added "Real Estate Areas Served" and then added "Austin" you could then add it additional area you serve.
Once you have added all these details you can click submit at the bottom of the screen. This will then bring up a few verification methods. Google will sometimes offer a verify by phone method. This method is the easiest and involves Google calling your phone and giving you a code that you input into the verification box. However, the other method is to verify by postcard. In this method they will send a postcard to your physical address that you will need to input. Once you verify your listing by one of these two methods you are ready to go.
So now you have your listing created let me quickly cover once method you can now quickly implement to get ranking in Google. If you look at a local result you will see reviews next to most listings. Your goal is to get just as many if not more reviews then your competitors. What you can do is contact any customer you worked with in the past that you had a rapport with and ask them to review your business. I would recommend emailing them and following up with purchase, also add in how much you enjoyed working with them. At the end of that email you will add your business listing link so that they can easily go and review your business. The goal is to make the review process as easy as possible. You do not want to burden your web reviewer but you want to encourage them to give you honest reviews. Once you start getting the reviews your rankings will increase along with customer trust.
This is just the beginning of what it takes to outrank your competitors and drive leads. If you would like more information or have any questions please feel free to email me at matt@theseovoice.com . You can also visit me online for free seo tips and more.
About the author: Matthew Smith has been working professionally in the SEO industry for over five years – working for both small and large SEO firms and now work at Dell doing what he loves. Matthew can be contacted on Twitter @smith_matthew or on LinkedIn.