Pinterest isn't going anywhere. 

The cork board social media site has become mass adopted and is quickly becoming a daily destination for millions of consumers.
The popularity on Pinterest of stunning real estate photos as well as beautiful architectural content make it a great match for Realtors.
One of the most important things to savvy web marketers is traffic. Often this traffic comes in from what we call a backlink from a large site (a link from Pinterest to a specific page on your website where the image that was pinned appeared originally).
This morning I stumbled upon a cool trick to instantly locate all of your website's backlinks on Pinterest.
Here's how:
Enter the following URL into your browser bar http://Pinterest.com/source/YOURWEBSITE.com/
Using InmanNext as an example it would be http://Pinterest.com/source/Next.Inman.com/
This will display a page on Pinterest of every pin that originated on the site you ask it for! You can check any website using this trick, not just your own.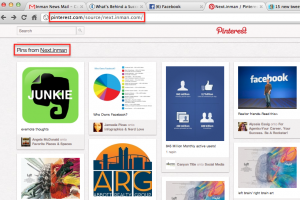 Wondering if real estate sites and content are doing well on Pinterest?
Take a look at how many backlinks Zillow is generating on Pinterest.
The best part for Zillow is that they are not even doing the work, the consumers visiting their site are doing it for them.
Did you learn a new Pinterest trick today?
If so, please share this article on Facebook and Twitter now, we will keep the Pinterest tips coming!
By the way, how many backlinks did YOUR website have?