Imagine this:
A new visitor hits your website/blog and you can SEE they are searching for Anaheim Hills homes (or wherever your market is).   You click a link that displays a message for them to see on your site that says:
"Let me know if you have any questions about the homes in Anaheim Hills"
And they immediately respond.
Now imagine this:
Another potential buyer is looking for Anaheim Hills properties and they type that phrase ("Anaheim Hills properties") in the Google search bar. When they land on your info page of Anaheim Hills properties, you can have a similar message display that says:
"We just listed an amazing property in Anaheim Hills this morning – would you like to see it?"
And they respond with a resounding "Sure!"
These two scenarios are just the tip of the iceberg when describing how you can use the HIGHLY interactive tool, LiveChat.
Today I had the opportunity to speak with the CEO of LiveChat Inc., Mariusz Cieply, and eCommerce & Marketing Director, Szymon Klimczak where they spoke with me about how their online lead generating tool has taken off over the past few years.  Below is a transcription of our call:
Suzanne:  Tell me about how LiveChat can generate more leads for the Real Estate industry.
Mariusz:  LiveChat is a very powerful tool for real estate agents who want to take their online visitors and turn them into their own buyers and sellers.  Our product enables real estate agents to not only be contacted by the potential home buyer or seller, but for the real estate agents to reach out and interact with them first.   We do not know of any other tool that allows for this type of two-way interaction quite like LiveChat.
Suzanne:  There are so many opportunities where real estate agents feel so disconnected from their potential online leads and this just takes that huge gap away.  Tell me about your integration with social media sites.
Mariusz:  We just released a new Facebook application that allows our users to apply LiveChat within their Facebook Pages.  They don't have to be a friend of you or a fan your business page to use the application but you will see their name, Facebook profile and their email address instantly!  Our links to Facebook and Twitter profiles, Google +1 and Facbook Like buttons in the chat window will get you a ton of additional social media visibility too!  You can see our Facebook application live by visiting our Facebook Page.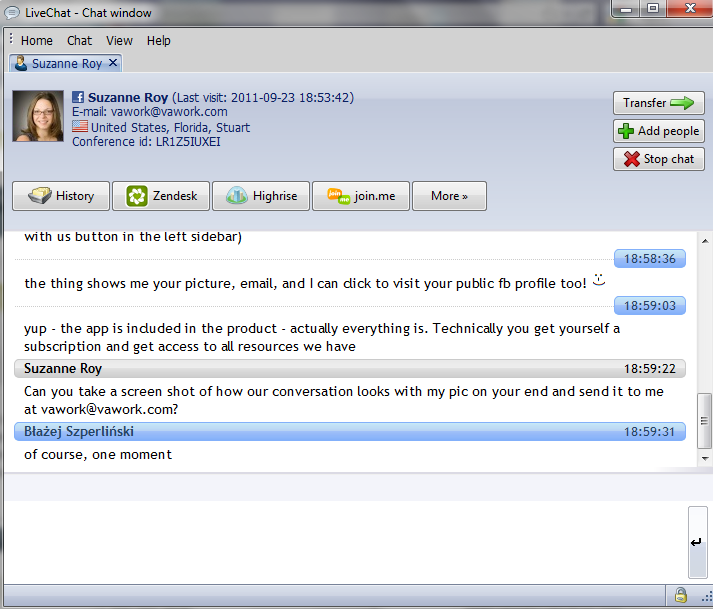 The entire online experience within the social world is brought offline with the LiveChat tool.  Immediate interaction is so important in today's marketing endeavors.  Our mobile and specific iPad applications work exactly the same and bring real estate agents prospects many steps closer to a transaction.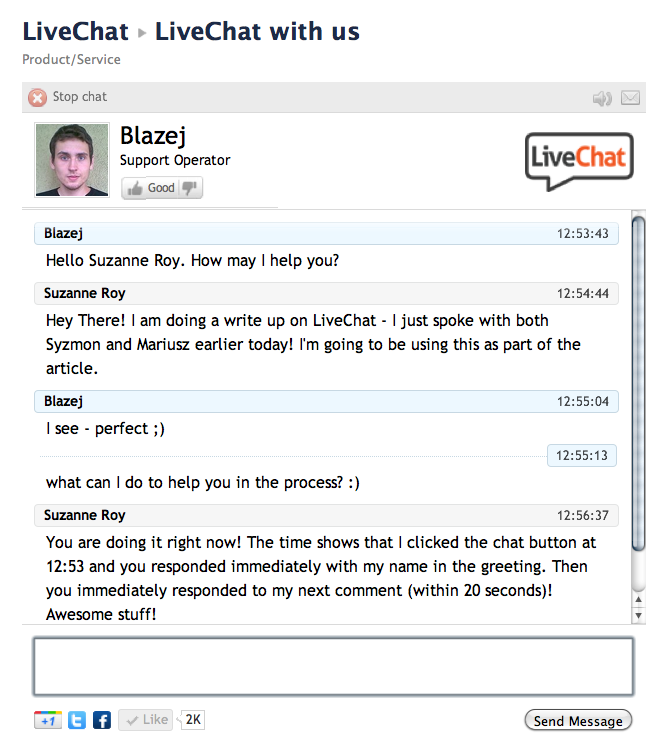 Suzanne:  So your product is available for mobile use including iPads?
Mariusz:  Yes!  We have developed applications for use on all mobile devices (iPhone, Android and Blackberry) plus iPad applications.  They are very easy to use and work especially well for keeping in touch with your online prospects while you're on the go.
Suzanne:  That is so important these days.  Can you give us a success story that you would like to share with us?
Mariusz:  We have a client, Orange, who is the largest communication company in Europe, who have improved their conversions by more than 10% since using the LiveChat system on their website.  We hear stories like this from most of our customers.
______________________________
As a user of LiveChat, I can vouch for their product (Disclaimer: I have NO affiliations with LiveChat!) – the interaction was astounding and the proof of its value is in the numbers.  A recent E-Tailing Group study supported the benefits of LiveChat for driving sales. The research findings showed that 58% of visitors interacted using LiveChat, and that more than 50% of those converted into a lead or a sale 20% or more of the time. It also found that proactive chat, where the site owner engages with a customer based on their on-site behavior, garnered higher conversion rates than when the chat is initiated by the visitor.
When I first signed up for their services in 2009 their tool was great for the purpose it served.  Now, it's simply outstanding with the amount of add-ons and plug-ins they have available to use within conjunction with it.  These include:
Joomla!, Drupal and WordPress custom plug-ins
Google Analytics add-on
Skype add-on
Salesforce add-on
Login with Facebook credentials
And for those of you that are wondering if it is available to be used on both PC's and Mac's, the answer is, of course!
They have three levels of service depending on the size of your team; their individual package would be best suited for a single real estate agents and the Pro for a Team of up to 5 people.  Some companies that are currently using LiveChat include The BBB, Bosch, Adobe and NETGEAR.  You can also see how the Miami Realtors site is using it, along with a home builder.
What resonated with me about this tool is that it breaks down the gap between you and your online visitors/potential leads.  Sure, this isn't the first "Online Chat" customer support tool to hit the market, but it certainly is one that offers a whole lot more for a whole lot less than the rest!
I know you have desperately wanted to have the ability to reach your website/blog/Facebook et al buyers and sellers:  Now you truly can in a BIG way!
Head on over to www.LiveChatInc.com and sign up for a free 14 Day Trial and test it out.  And  for more info on LiveChat, follow @livechat.