How many times have you looked over at your alarm and thought,"If  I snooze for 15 minutes and skip making coffee, I can still make the meeting." Then you get stuck in traffic and end up being late after all. Well, the app developer ToGetHer Tech might just have a solution. They just released a new Android app in beta called "Bounce GPS, Calendar" which aims to keep us on time all the time.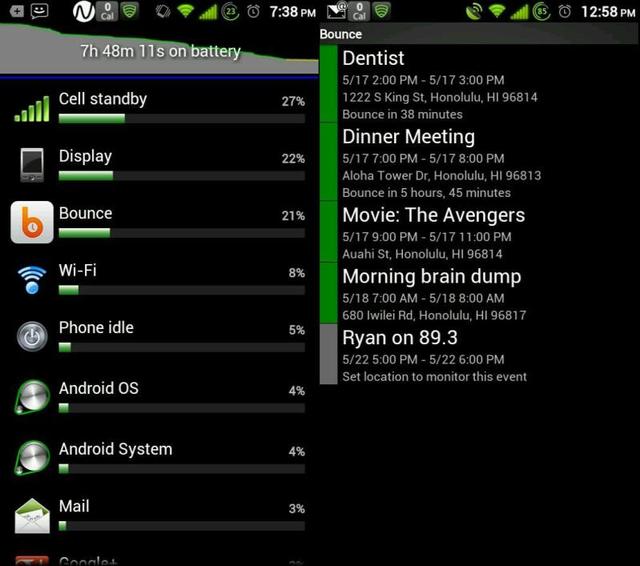 How does it work?
The app itself is very simple. Once you install it, it starts telling you when you need to "Bounce." The app interfaces with all of your calendars, pulling in all your appointments. It looks at the address of the appointments and determines where you are using GPS to find out how far you need to travel. Then it takes a look at traffic conditions and adjusts the time you need to leave in order to make it on time accordingly. The only options you have in the app are how far in advance you would like to be reminded of the need to "bounce," and the ability to adjust your travel time to allow for parking, walking, or other unforeseen obstacles.
The good
I love the simplicity of the app. Some developers tend to bloat their apps with features and functions that can slow them or crash them. This is a good example of an app done right. It knows its job and it sticks to it. Rather than forcing you to enter all your appointments, it allows you to keep using the calendar that you know and love, working silently in the background until it's time to notify you. It's a very clever idea and I love the clever integration.
The bad
There are two glaring issues that stand out for me which are big enough to make me uninstall the app. I don't like the fact that it uses the default notification sound rather that letting me choose a new tone specific for when I need to bounce. Because I get so many notifications from a variety of different apps, I use a fairly quiet sound to avoid annoying anyone around me. It would also be nice to be able to distinguish "Time to Bounce" notices from email or Facebook posts. The second issue — common with all apps with continual GPS monitoring — is the battery drain. You have to ask yourself how much battery power you want to give to any app. Even though this app is useful, if my phone dies half way through the day, then it ends up hampering me much more than it helps.
Bounce is still in beta, so hopefully ToGetHer Tech will address battery drain. The developer is working on an iOS version as well, so expect to see this coming to iPhones soon. If you worry about being late and you have access to a battery charger throughout the day, then give Bounce a try and see if it does the trick for you.
Update: I ran the software with several reminders/appointments set and the battery drain was even worse.  Here is an image that illustrates the issue.