Just a few months ago, FOREM posted an article about Rent Jungle. Rent Jungle, launched in October, 2010, and claims to be the most comprehensive rental listing site on the web. It works much like other search engines in that it scours the internet to amass apartment listings from a variety of sites.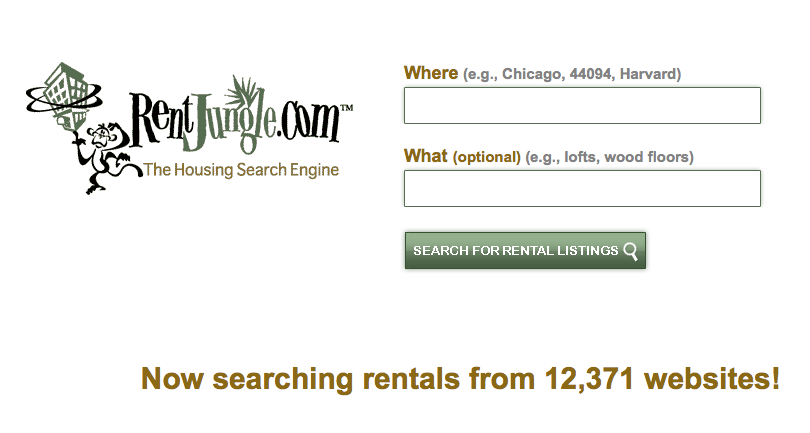 What sets them apart? Unlike other search engines, Rent Jungle specializes only in apartments and rental housing. Users can search, sort and bookmark individual listings, as well as save them for later use. Users can also view listings on an innovative user-friendly map, powered by Google. Rent Jungle was founded to fill a void in the online real estate market by offering a simple, easy-to-use directory and one-stop-shop destination for renters.
Last week I was contacted by Rent Jungle and informed that they have raised an additional $300,000 in angel round funding. The company plans to use the new funds to focus on expansion to new geographies and platforms, for refinement of the search algorithm, and to enhance user experience on the site. Rent Jungle will also soon be releasing their new iPhone, iPad, and Android application.
Rent Jungle says that users will benefit from faster service, more listings, as well as the consistent core elements of the industry-first apartment and rental housing search engine. The site has already expanded its technology to aggregate listings from over 5 million apartment and rental home listings from over 12,000 sites, improving its already massive listing-base so satisfy the growing needs of the industry.
Since last October, Rent Jungle has seen an increase from 30,000 unique users per month to over 500,000 users this March. CEO and co-founder Jon Pastor said on the subject,
"We have been fortunate over the last few months to see our traffic grow to such an extent, and we are always thrilled to find investors as dedicated and excited about the site as we are." Although the site is relatively young compared to its competitors, its traffic is expected to reach over 1,000,000 users per month by the summer of this year. "It's been gratifying watching the site grow so fast," Jon Pastor comments, "and I'm elated in the interest and support we've received thus far."
Similar to most search engines, Rent Jungle allows users to search for specific keywords including bedroom and bathroom count, amenities, price and location. The search engine's rental statistics also grant a view into current rental trends based on market pricing nationally, by city, and by individual neighborhoods. Rent Jungle's search technology can be used as a rental comparison tool allowing users to compare neighborhood rental trends to best match their housing and budget needs – a function new to the rental and housing industry.
Have you used Rent Jungle? I'd love your opinion and feedback, leave me a comment below!
Written by: Katie Lance, Social Media Director, Inman News, @katielance