I got the chance to meet Seth Siegler, CEO of Robot Workshop at Connect SF this year, and I have to say, I am really impressed with their new product they unveiled at Start-Up Alley this year. They just unveiled a new, embeddable, neighborhood search widget, called Neighborhood Suggester™. The product is an embeddable, neighborhood search widget, called Neighborhood Suggester. The widget is available in two versions: website widget and Facebook app.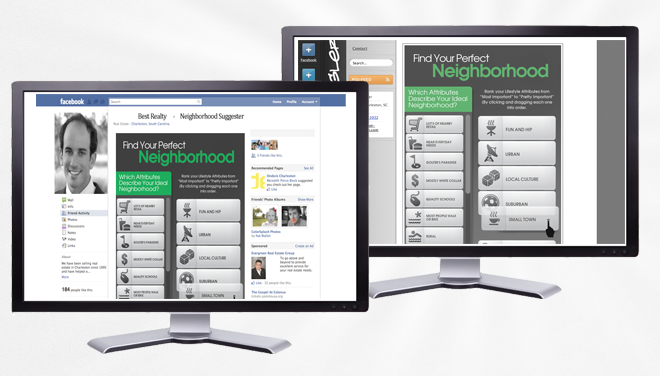 As a consumer, I love the idea of being able to search for homes for sales by neighborhood.
"Currently neighborhood-search is the missing link in the online home-search process" says Robot Workshop founder, Seth Siegler, adding: "Neighborhood Suggester™ immediately changes that, while offering a real way to help real estate agents capture prospects online."
The widget embeds into the website or Facebook page of any real estate agent and uses an intuitive drag and drop user interface technology – which I love! Users select the six most important qualities of their perfect neighborhood and from there, Neighborhood Suggester™ accesses millions of data points to recommend up to ten matching neighborhoods and zip codes.
One thing that is really exciting for real estate agents and brokers is the lead capture and traffic-generating capability of Neighborhood Suggester™ for Facebook.
"Embedding the widget into an agent's Facebook page, gives users a reason to visit and Like the page," said Siegler. "But most importantly, it arms users with specific names of neighborhoods that suit their lifestyle, getting them excited to search for homes immediately. Users can easily start searching by pressing a button on Neighborhood Suggester™. Traffic is instantly driven to the agent's website search page from their Facebook page"
Special Offer for InmanNext Readers:
If an agent purchases a Neighborhood Suggester for Websites (49.95/mo) ($35 setup fee), Robot Workshop will give them a Facebook version for FREE, for the entire time they remain a subscriber.  The offer must be redeemed by the August 15th. And if you become a Facebook fan: facebook.com/robotworkshop it is only $39.95/mo for the app and the widget package (both Neighborhood suggesters, $35 one time setup.)
To qualify for the special pricing, users must go to their Facebook page and click the special link.
Questions or comments? Post your feedback below!