I just downloaded one of the coolest and latest real estate apps on the iPad – the new "House of the Day" app from The Wall Street Journal. Just released this week, this app is based on the popular "House of the Day" feature from WSJ.com, in which readers can peak inside breathtaking houses all across the country.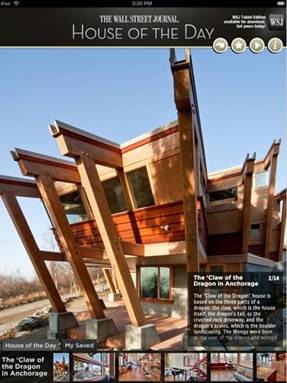 What I love most about this app is that it is sleek, features gorgeous full-screen photos and minimal text. At first glance, the app features a variety of luxury homes from the beaches of Santa Monica, to the snowy ski slopes in Aspen, and the lavish apartments in Manhattan. In the coming weeks, dedicated sections for homes in NYC, Europe, and Asia will also be added.
According to WSJ.com, the app features included:
Homes with vivid slideshows for a close and inside look at architecture, landscaping and design details
Share the latest houses on Facebook and Twitter or email photos to friends
Save images to the photos folder on the iPad or within the app
You can download the app from the iTunes store here >>
The big question I'm sure every real estate agent is asking is, "How do I get my listing on here?" I have checked with their media kit and have contacted several different sources at the WSJ and have yet to receive an answer. I t would only make sens to me that they would monetize this as an ad product. As soon as I know the pricing and process I will post it here.
Have you downloaded this yet app yet? What do you think? Leave me your feedback below!
Written by: Katie Lance, Senior Marketing Manager, Inman News, @katielance