Josef D. Bookert graduated from Carnegie Mellon University school of Humanities in 2009. He joined the Rent Jungle team earlier this year as the Director of Public Relations.  For additional info about Rent Jungle visit their Facebook page or view their market trends page.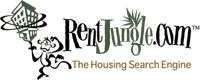 The housing market has been through a lot lately, but the "American Spirit" remains innovative and resilient, able to carry the nation out of its slump. Whether it is an economic ding or a market collapse, we find our way through the muck and onto prosperity. Given our American instincts to find new and better ways to thrive, the folks behind Rent Jungle have come together to make a better way to search for apartments. Rent Jungle (www.rentjungle.com) came up with some interesting features to make finding an apartment quick, easy, and enjoyable.
Rent Jungle is the first true apartment search engine and features an industry-first technology that finds rental listings on the web, separates the for-sale properties, isolates key data such as price and size, and maps everything neatly together.  By gathering listings from over 7,000 websites, Rent Jungle gives users access to more apartment listings than any other website.  T
his technology allows Rent Jungle to double the number of listings per city available over Craigslist and other like sites.
Rent Jungle has easy to navigate map view, as well as options to see each listing in order of size, price, or features. It also has features that allow users to save favorite listings, keep notes on them, and share them with friends. Rent Jungle has everything you need to find an apartment.
As an apartment search engine canvassing the entire United States, Rent Jungle also has rental data for each major city. The market trends feature on Rent Jungle gives apartment hunters the tools they need to search smartly and efficiently for new homes. This means they can compare their current rent against the average in the area and judge whether they are paying too much or the right amount.
Apartment hunters can also compare which part of the city is more or less expensive, and even compare city-to-city averages. They can look to see how prices have shifted and what direction they are headed in, making it easier to gauge when the best time to move will be. Rent Jungle market trends make it easier to know how much one should expect to pay during your next move and which neighborhood can boast the ideal apartment or rental home.
For owners, the Rent Jungle search engine is an invaluable tool to judge where their vacancies fit in with regards to pricing and amenities in the city. The same rental trends used to find apartments can show owners what the current market looks like around them, while giving them real time averages and pricing statistics. Owners can easily have their units posted directly on Rent Jungle on economically friendly terms, making them more visible to today's apartment hunters. Listings on Rent Jungle also take the user directly to the source, meaning more traffic is sent to the owner's website.
So if you are searching for an apartment or rental home, Rent Jungle has you covered. Rent Jungle has more listings than anyone else out there; a fantastic engine and user interface, and we know you'll love the site. Rent Jungle's search engine technology is something quite unique in the housing market and is setting the stage for new and innovative technologies to take the rental market to new heights of success. We're pretty excited about it and we would love to hear your thoughts on Rent Jungle.
Please send us your questions or thoughts to info@rentjungle.com. Happy apartment hunting!
Here is a testimonial from a very happy client!
"Oh my god, I don't say this often and I hate facebook apps out of principle (if you ask me then facebook should've never allowed highschool kids or applications) but:
LOVE IT LOVE IT.
a) it is simple
b) it is blazingly fast (faster than apartment website)
c) it is intuitive
d) you can save apartment to look at later
e) makes searching for a place with roommates super easy because you can share it over facebook
This is the new cragislist of apartment hunting. Seriously. I wish I had this when a few months ago. Once again, I can't believe I'm saying this about a facebook app, but I LOVE IT"