Apple CEO steps down, hands reins to Tim Cook, COO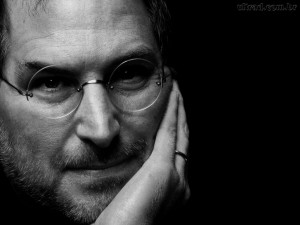 "Your work is going to fill a large part of your life, and the only way to be truly satisfied is to do what you believe is great work. And the only way to do great work is to love what you do. If you haven't found it yet, keep looking. Don't settle. As with all matters of the heart, you'll know when you find it. And, like any great relationship, it just gets better and better as the years roll on. So keep looking until you find it. Don't settle."

– Steve Jobs

Steve Jobs' Stanford 2005 Commencement Speech
I've always unashamedly been a Mac. From their breathtaking product design, to their inspired and truly groundbreaking user interface, what I always loved about them was how, as a technology company, they made the technology disappear. But more importantly, what always resonated with me was what they stood for. Why they did what they did. Their 'why' was my 'why' too.
On Wednesday August 24th, Steve Jobs, the mythical founder of Apple back in 1976, decided to tender his resignation as CEO, handing the reins of the organization to Tim Cook, the current COO. Jobs has not resigned from Apple itself, but will continue as Chairman, offering guidance and advice to the board.
As The New York Times reports here, "In his new role as chairman of the board, Steve will continue to serve Apple with his unique insights, creativity and inspiration," said Art Levinson, the chairman of Genentech and an Apple board member, in the company's announcement.
As Jobs' resignation letter suggests, the continued speculation as to his ongoing health problems appear to be a part of why the decision has been made at this time. Jobs underwent surgery for pancreatic cancer in 2004, followed by a liver transplant in 2009.
Many online are wrongly choosing this opportunity to eulogize Jobs, as if it's a departure. It's not. Apple's stock has been trading erratically since the announcement was made. The news was the second seismic wave to ripple through Twitter this week. However, while the change marks an important turning point in the company's history, prompting the long term question asked of all companies looking to survive the departure of their founder, "what happens now?", Apple has a long and distinguished legacy, directly shaped by Jobs, of being a brand completely untethered by convention.
Like many others, I think that it's a great time to reflect on Jobs' incredible achievements in how we experience digital information and technology every day. Did you know that there are over 300 patents listing Jobs as the inventor? It's no wonder many have called him the greatest industrialist of all time. The era of unprecedented digital product innovation that Jobs and Apple ushered in has not only transformed and revolutionized how we share information, but heralded a time of incredibly exciting global technological innovation, for all of us.
Think of the industries transformed by Apple. The music industry was completely turned on its head by the iPod and iTunes. 10,000 songs in your pocket in a time where people were carrying boxes of CDs around with them? That's insane. Building the greatest and most profitable animation studio in the world, making the first ever fully computer generated movie, and bringing about a whole new way of experiencing 'cartoon' characters? Pixar is now a household name. A magical 'third device' that's not quite a laptop, but a little bit more than a smartphone? A whole new way to read books and magazines, and you mean I'm going to be able to watch movies on this completely flat device in my hand, anywhere? There's no doubt that Jobs' description of the iPad as magical is entirely accurate and truly appropriate.

Think Different, 'Here's To The Crazy Ones'
Many are currently speculating on what life at Apple without Jobs will mean for the company. While those days are in the future and not now, Jobs' DNA, and the genetic makeup of the Apple brand are so tightly woven, that there's no doubt his vision will live on for a very long time at Apple. As the benchmark by which all CEOs will be measured, Jobs has surrounded himself with a team of incredibly bright, talented and innovative people. His hire of Jonathan Ive as Head of Product Design was particularly inspired, especially when it came to the unprecedented step of offering computers that came in different colors.
Jobs' resignation letters mentions "I believe Apple's brightest and most innovative days are ahead of it. And I look forward to watching and contributing to its success in a new role,", but it will remain to be seen if the Apple team will adapt to an environment without a single ultimate decision maker. Anyone following what they're planning here should have no doubt their foreseeable future is incredibly bright.

Jonathan Ive Talks About Apple's Product Design

The bigger issue is the enormously powerful legacy left by Jobs, which transcends even the company he built (twice). In stepping down as CEO, he begins the transition to the next wave of what Apple will be. The brand's values are baked into not only the beautiful products which Apple releases, but also how their users interact with them every day. Being an Apple user stands for something which just isn't as strong in other personal computing products.
"For something this complicated, it's really hard to design products by focus groups. A lot of times, people don't know what they want until you show it to them."

– Steve Jobs quoted in BusinessWeek, May 25, 1998
It stands for innovation. It stands for excellence. It stands for editing and saying no more than saying yes. It stands for beautiful design, flawless execution, always sweating the details and never compromising.
It's welcoming. It's fun. It's a rule breaker. It's John Lennon and Bob Dylan. Perhaps most importantly, it facilitates the fun, meaningful work that Jobs so passionately talks about in his Stanford Commencement speech. It's… different. A difference that changed the world.
"This is what customers pay us for–to sweat all these details so it's easy and pleasant for them to use our computers. We're supposed to be really good at this. That doesn't mean we don't listen to customers, but it's hard for them to tell you what they want when they've never seen anything remotely like it. Take desktop video editing. I never got one request from someone who wanted to edit movies on his computer. Yet now that people see it, they say, 'Oh my God, that's great!'"

– Steve Jobs quoted in Fortune, January 24, 2000
Apple's critics rightfully suggest that Apple is secretive. That their products are expensive. That they are unresponsive as a brand. This all might in some sense be true, but that seems a small price to pay for having a brand in our lives that continues to captivate, transcend product boundaries, and simply take our breath away.
Jobs' message of doing what you love is one that will resonate strongly with many in the real estate industry reading this. Users can tell when a designer has agonized over making the right decision, and that care, thought and genuine attention has been poured into what they're experiencing. They will reward you with their loyalty, trust and enthusiasm for what you do.
"The cure for Apple is not cost-cutting. The cure for Apple is to innovate its way out of its current predicament."

– Steve Jobs quoted in Apple Confidential: The Real Story of Apple Computer Inc., May 1999
Innovating our way out of our current predicament is our industry's charge too. That's the real lesson from Apple for us. I believe the real estate industry is in its infancy in learning from brands like Apple, but as Jobs says in his resignation letter, I too believe that our industry's "brightest and most innovative days are ahead of it".
Stay hungry. Stay foolish.