The new Facebook Camera app launched just recently in the iTunes Store for the iPhone only (not yet available for the iPad). It is a great, lightweight, camera-only app just for Facebook. It definitely resembles Instagram, the photo-sharing app that Facebook recently purchased for $1 billion.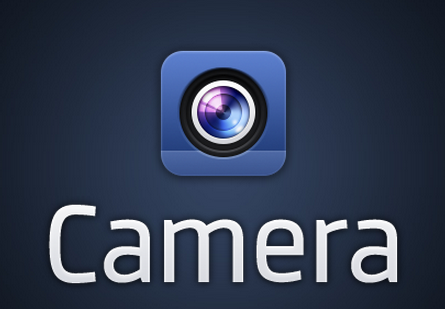 I was thrilled to see the new app and took it for a test drive this weekend. I found it fast and lightweight and super-easy to use. I also loved being able to scroll through all of my friends' photos they uploaded versus the entire newsfeed, which can seem weighed down with Angry Birds, Songify tunes, other third-party apps and so much more.
TechCrunch wrote an article about the launch of the new Camera app and confirms what I discovered after downloading the app: that the 14 filters that are in the Facebook Camera (compared to Instagram's 17 filters) app are not nearly as nice-looking as Instagram — plus Instagram has the tilt-shift option that the Facebook Camera option doesn't have. Also, you can't upload Facebook Camera photos to specific albums.
In my opinion, the Camera app may be a game changer because it allows for multiple photo uploads (Instagram does not), and it seems like it doesn't bury photos in the feed like Instagram photos pushed to Facebook seem to (along with anything else pushed to Facebook via a third-party app).
Wired Magazine spoke to the Facebook Photos product manager, Dirk Stoop, who said, "We've been working on [Facebook Camera] for a while. The big problem that we were trying to solve was that if you are in the middle of an experience and you want to share your photos, it's often too much of a hassle to go through the whole process."
Will I ditch Instagram? No, and here is why. Instagram is its own community. I have built relationships with many people on Instagram that I haven't on Facebook or Twitter — simply because it is a smaller network.
However, this move by Facebook only solidifies my belief in the power of photos — especially within personal profiles!
Here are a few screen shots of the app and the key features of each screen: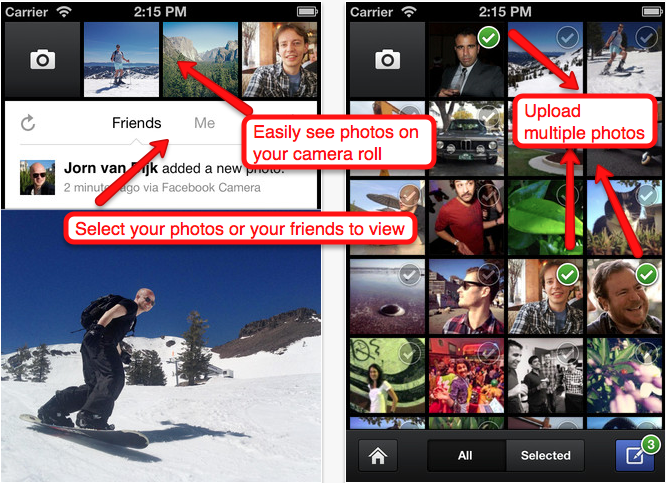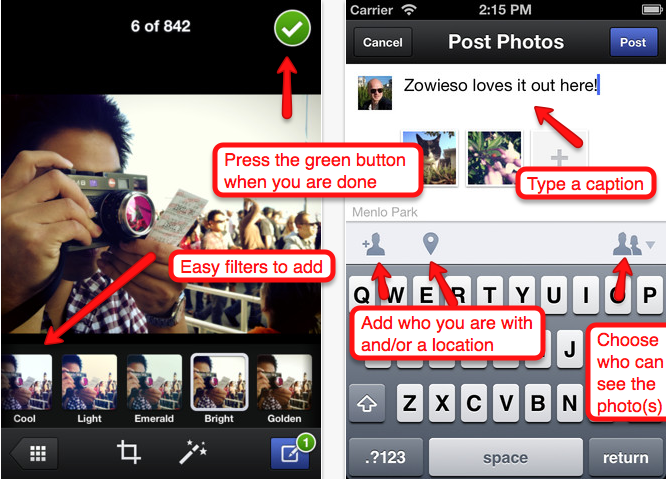 Questions about the app? Click here for Facebook's complete FAQ about the Camera app.