This time of year is always a busy time; frantic last minute purchases, wrapping up end-of-year transactions with clients, preparing for the new year, and the list goes on and on.
But, near the top of the list should be making sure you have a holiday social media strategy in place. People are on Facebook more than ever during this time of the year, is your presence there too?
Here are a few quick and simple ideas to connect with some of the most important people to your business using Facebook:
1. Send a gift via Facebook. With Facebook's new gift feature, you can purchase and send a gift directly through Facebook with the click of a few buttons. You can have it shipped directly to them, and it couldn't be easier – especially for any last minute gifts!
2. Change your Cover Photo. Add a fun holiday Cover Photo to your personal profile or business page. When you change your Cover Photo, it shows up in the Ticker (on the right-hand side of your screen) for anyone who is a friend or likes your page. If you have taken some fun holiday photos on Instagram, use InstaCover to create a quick and easy holiday-themed Cover Photo!
3. Spread holiday cheer with photos. One of the very best things you can do this week is to post fun holiday photos like a photo of your office Christmas tree or photos from your company holiday party (G-rated photos only!). Check out what Smart Click Realty is doing – I love their "Ugly Sweater" contest!
4. Plan ahead and schedule accordingly. This time of year is busy personally and professionally. Think a few days ahead and schedule your posts on your business page. Have one post per day scheduled out for the next couple days. At the end of each day ask, 'what is going to be posted tomorrow morning on my business page?' If you know already, save yourself the stress of forgetting and schedule it using Facebook's scheduling tool for Pages.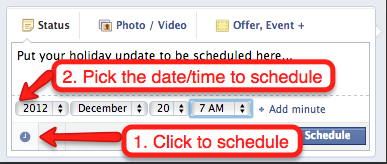 5. Reach out and connect. This is one of the best times of the year to reach out and write on someone's Facebook wall or send them a private message to let them know you are thinking of them and wishing them a happy holidays. Never underestimate the importance of one-to-one communication – it's more personal than a mass holiday card. Make sure you reach out to your "Top 10 List" – the top 10 people you are building relationships with (and will perhaps be clients for you in the next 12-18 months.)
I'd love to hear how you are maximizing and connecting with people via Facebook this holiday season. Leave me a comment below!