Lockhart Steele is up on stage to keynote Bloggers Connect. He's a great choice, being one of the most successful consumer-focused real estate bloggers on the web. Curbed is an example of what a dedicated group of good writers can do with a real estate blog.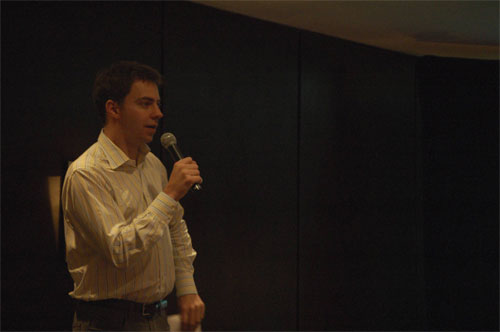 Lockhart talks about how blogging is at it's heart just a publishing platform. How the most successful bloggers realize that, and how it's interesting to see people getting lost in the technology. Some of the best blogs from yesteryear look the same after 8 years and are still successful.
Three points:
1. Editorial
Curbed is obsessed with getting things "first". It's about getting the news out there as quickly as possible.
Let's get comfortable with the idea of readers adding and extending the story (ex: boomtown)
2. Aggregation
A lot of casual readers can't keep up with everything. Learn to radically link to others, even competitors, to do roundups of the news going on in that niche.
For many real estate bloggers it's the quality of analysis and what they add to the conversation, not just breaking news which is what Curbed is known for.
3. Video and Podcasts
Lockhart is skeptical, it's not what they're good at. It has to get really easy and really cheap for it to work.
Other thoughts:
No one blog will be the place for all local conversations – each area will likely have it's own blog that is the central node for community interaction. Curbed is doing it in NY and a few other cities, but there is room for this in other cities as well.
There are some commenters known for just being a good commenter. They don't necessarily have their own blog/site. They can be seen as "sub-bloggers" on larger blogs, or across niches.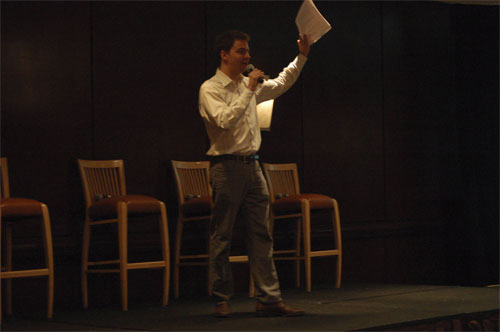 Some quotes:
"My greatest hope for the future is that blogging always stays fun."
"The Curbed team works hard to write about fun things in the local community and it tends to bring in a lot of non-real estate readers."
[Catch the streaming video of the talks at the Sellsius Blog.]