Hopefully this headline will grab your attention and you'll read it right away because there is something really, really important that needs to be "revealed" about Facebook pages.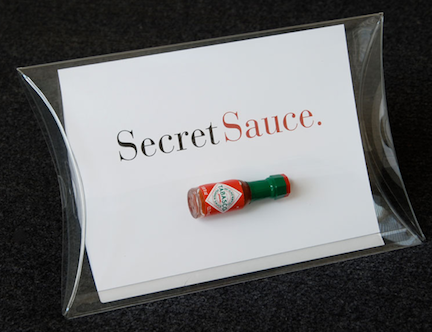 I recently did a blog post which ended up with 60+ comments, and I left a ton of feedback for people regarding their Facebook pages. What I realized as I was clicking through each page, is that there was one fundamental element that made the difference between a successful and not as successful business page.
If you are at the point of setting up a page, posting some content, and now you are feeling like "now what" – then you need to read this.
The secret sauce to ROCKING a Facebook page is this…
Less about you. More about them.
Sounds so simple right? But most people (and I group myself in to this group) do this once they have a business Facebook page: they post links to article, their listings, interesting event or local info, market trends, etc. But the BIGGEST thing they don't do is ask questions, ask for a response or generate feedback.
Read that last sentence again. They don't ask questions!
Why is this so important? 2 reasons:
1. Social media is not a one-way street. No one wants to just hear stuff pushed out to them. We like to comment, but many times we don't respond to a post on Facebook, because no one ASKS us too.
For example, if you are going to post a market update you could say:
"Check out my latest market report for _____ area. Home sales are up by 20% from last year."

OR you could say this:

"Check out my latest market report for _____ area. Home sales are up by 20% from last year. What do you think about that?"
Simple tweak, but by asking questions and asking for feedback, people are more likely to leave comments which means they are more likely to pay attention to what you are posting.  And then in a perfect world, the likelihood that they do business with you or refer you to someone they know, increases!
2. Your page will be viewed more – the more comments and likes you have. It's a secret of Facebook that only a few people have seemed to figure out. Not all pages show up in your members feeds.
Why? A few reasons:
When you go onto Facebook you can click 'Top News" or "Most Recent" – Top News is a filtered feed that Facebook provides based on your activity.
Most people are watching THIS feed. Even if they are watching their "Most Recent" feed their settings may be set to only receive updates from pages they interact with.
Most people don't know that they can change this. Scroll to the very bottom of your home page on Facebook and click "edit options" – once you click "edit options" you will see this pop up, make sure "all friends and pages" are checked so you are seeing all your friends and pages (not just a filtered view).
Simple fact: the more comments and likes you have, the more people will see your page.
Over the last few weeks, I posted a number of questions on our Facebook pages just to test this theory – and sure enough, the posts that were simple questions received more likes and and comments then just about anything else we posted. AND (and this is the really cool part), the other posts we were posting received more impressions too! Here is just a super simple example of a post from yesterday AM to our Inman News Facebook page – which generated 38 "likes"

Another example that generated 2 likes and 5 comments: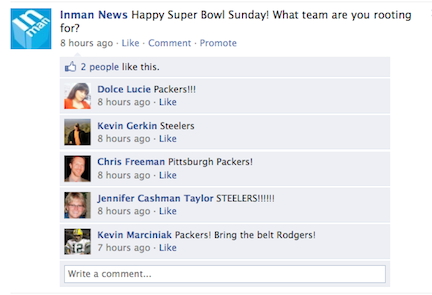 Now, of course you can't have a page with just questions – but what I recommend is to start asking for feedback and comments. Ask at least one question a day on your page, and you will start to see more people interacting with you, you will start to build a commmunity, and you will start to see more people join your page.
What are some ideas for questions? Here are a few to start with:
Which school district are kids in?
I'd love your feedback on this home I have listed. Can you take a peek at this link and let me know your 1st reaction to the home?
If you had to choose would you pick a bigger backyard or a bigger house?
How long have you lived in your home?
What's the best part about your neighborhood?
Working or relaxing this weekend?
Do you go to open homes on the weekend?
Check out this article about hot real estate markets in the U.S. – what do you think about this article?
Have you ever remodeled your kitchen or bath?
Would you prefer to move into a home that is "move in ready" or do you like the challenge of working on it yourself?
Check out this awesome event downtown tonight. Click "like" if you plan on going!
Keep a running list of questions to ask your members AND remember to chime in too! Always go back and answer questions and thank people for commenting.
I'd love to hear your feedback on this, please leave me a comment below!
Written by: Katie Lance, Senior Marketing Manager, Inman News @katielance