It comes as no surprise that the #2 Realtor with the most closed transactions in the US in 2010 was a Broker.  And it should also not surprise you that this Broker has quite the team of professionals working with her, all of whom play a large role in her success.  It's called a team.  And if you want to get ahead in this (or any) industry, you need one too.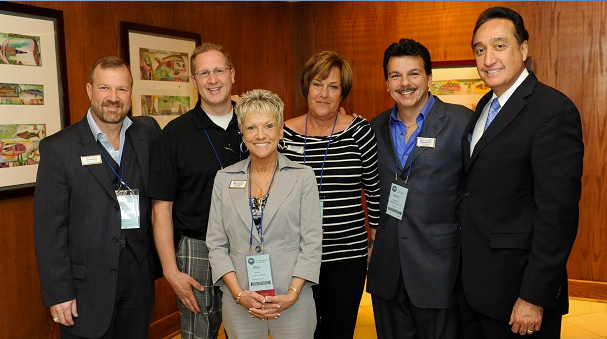 Question:
When was the last time you went to Walmart and you were greeted at the door by the CEO?  Or how about when you went to the checkout and there stood the VP of Sales?
It doesn't happen, right?  To have a flourishing business, you need to create a system and part of that system is a team.  Rocket science?  No.  But in the competitive world of Real Estate, often disregarded.
I had the opportunity to speak with Mary Berry of Century 21 All Pro out of Oklahoma City, OK, and also the above mentioned #2 US Realtor® for most closed transactions in 2010.  She gave some great insight as to how she managed to close over 1,035 sales last year alone.  And, she didn't do it alone.  It also didn't take her a few months to achieve this amazing accomplishment.  It took hard work and diligence.  It took working with what was available and making it successful.   Mary discusses with me how she saw the need and started at ground zero and worked her way to where she is today.  She explained how she has used social media to make an impact within her market and with her peers.  And she provides information on how anyone can do what she is doing if that's what they truly want.  You can watch our short interview below:
[php function=1] Can't view the video, click here>>
Sure, you may not want to be the area specialist in HUD homes or REOs.  And that's ok.  But where is the need and how can you meet it?  If you are struggling with your real estate business and want to progress in 2012 (and beyond), not regress, then this is the question you need to ask yourself. A million dollar question?  Possibly.  But a question that needs to be asked and must be answered?  Definitely.
I can appreciate that many Realtors® do not desire to be part of a large team and that maybe closing a few dozen sales a year is more your cuppa tea.   Maybe you want to have more of a hands-on experience with your clients and be that CEO at the door or VP of Sales at the cash register.  And there's nothing wrong with that in the least.  But for the sake of this article, if you have ever said to yourself that you just can't compete with those "others" that dominate the market – you can!
An Example:
I started my own online marketing and social media business over 8 years ago – solo.  It didn't take me long to realize that I could only grow so much until my own time and resources would be saturated.  Bringing other highly skilled individuals into the picture and assisting to cover more ground was an easy decision to make and one that has brought me to now have a team of eight.   Sure, I could have continued on my own and worked "against" my competitors out there, but why, when we can work and bring our skills together to benefit our clients so much more?
So, what's your excuse?