I'm not big into predictions, but think 2011 may be the year of the "specific niche social media" – meaning social media networks that have a specific niche.
As I'm getting ready for Agent Reboot NYC and Real Estate Connect NYC NEXT WEEK (OMG yes it really is next week!!) I came across a new social media tool designed to connect with my fellow airline passengers.
Check out Planely – who asks the question, "Who is on your next plane?"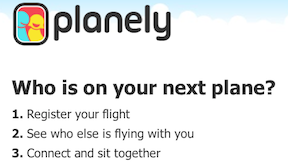 Personally, I think it's a pretty cool concept – especially in the case of traveling for a conference.
One of the main reasons to go to a conference is for the networking and the people you meet. At Connect, there never seems to be enough face time with people you can meet.
What if you could start your networking at the airport? As the video below suggests, you can meet up with people who are on your same flight, meet in the terminal, share a cab ride and even sit together if you'd like!
Since I'm a social media junkie, I just signed up. Maybe we'll be on the same flight! See you at the airport! :)
Planely from Planely on Vimeo.
Would love your opinion on this – will you sign up for it? Would you use this social network? Leave me a comment below!
Written by: Katie Lance, Senior Marketing Manager, Inman News @katielance