As many of you know, the much anticipated iPhone4 was announced yesterday in San Francisco. Aside from it being leaked a few months back and then Steve Jobs not being able to connect to the Wi-Fi (that was highly entertaining) – there were still some really cool new features announced yesterday. Apple, which has delivered a new iPhone every year since it first came out, sees the fourth-generation device as "the biggest leap" in design and functionality in three years.iPhone4 tech specs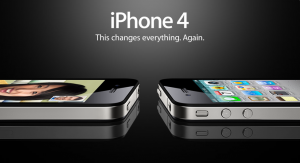 Here are the top 4 features that were announced about the NEW iPhone4:
1. The iPhone4 is thinner, has a better resolution and adds a front-facing camera (with a flash!) The new iPhone sports a new type of glass and a stainless-steel band that Apple says is designed to improve network reception. The resolution on the new phone is the resolution is now 960 by 400 pixels, up from 480 by 320 in all previous iPhones. The camera is now 5 megapixels, which will deliver more detail, and this is the first iPhone with an LED flash (finally!!)
2. 2 cameras! New video program: FaceTime, will be limited to Wi-Fi networks for now. That means customers won't be able to make video calls using AT&T Inc., the exclusive U.S. wireless carrier for the iPhone. And while the phone can tap fourth-generation networks, that technology won't be ready from AT&T until the middle of next year. For video, the camera is now capable of 720P resolution – and Apple is offering a slick-looking $4.99 version of its iMovie app that lets you edit movies right on the phone.
3. The new operating system iOS4. This new operating system supports features such as multitasking – the ability to run more than one application at the same time. Jobs said yesterday that there are more than 225,000 apps available. The company has paid out more than $1 billion to developers, who get a 70 percent share of the programs sold through the store, he said.
4. Longer battery life and talk time. According to the company, the phone offers seven hours of talk time or 300 hours on standby, six hours of Internet use on 3G, ten hours of movie-watching, and 40 hours of music playback.
How much is it?
A 16-gigabyte model will cost $199, and a 32-gigabyte version will sell for $299.
Web developers – check this out:
An advertising system called iAd will be built into the new iPhone software, giving creators of apps a new way to make money. Software developers will get a 60 percent cut of revenue from ads placed within their apps. After eight weeks of taking orders, Apple said yesterday that it has commitments for $60 million in advertising for the second half of the year.
Real Estate Agents & Brokers – what does this mean for you?
I think these new features this only enhances how a real estate agent would use the iPhone. Longer battery life – always a good thing for an agent! Multi-tasking – agents are the kings and queens of this and will love this feature. Dual videos – this is a huge opportunity for agents – think about video blogging, house tours, video chats with clients, working remotely, working with international or relocation clients – the possibilities are endless.
What if you already have an iPhone and don't want to get a new one?
Upgrade your phone to iOS 4, the latest version of the software that Apple has called iPhone OS until now.
It'll be available as a free download on June 21st, and brings many of the best iPhone 4 features to any iPhone 3GS, including multitasking of multiple programs at once, folders for organizing your apps, and a better e-mail program. (It also works on the older iPhone 3G model, but without multitasking.)
I do love my iPhone… now only if I could actually get good AT & T reception :) A girl can dream, right?!
Did you see Steve Jobs announcement yesterday? What do you think of the new iPhone4? Would love your feedback, please leave me a comment below!
Written by: Katie Lance, Marketing Manager, Inman News