Seth Siegler is the cofounder of Simplistate, an eco-friendly, virtual real estate brokerage. He is also the owner and founder of Robot Workshop – a real estate technology solutions company specializing in IDX and PPC based lead generation. You can find his real estate industry blog at www.sethsiegler.com. We are also pleased to announce that Seth will be speaking at Real Estate Connect NYC 2011 in January!
I'm a Google Analytics junkie.  I check it several times a day and obsess over the stats on all of my websites. (you should do the same…but maybe not as often as I do…)
One of the main stats I'm always trying to keep favorable is "bounce rate."  Google defines "bounce rate" in the analytics help section as: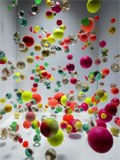 Bounce rate is the percentage of single-page visits or visits in which the person left your site from the entrance (landing) page. Use this metric to measure visit quality – a high bounce rate generally indicates that site entrance pages aren't relevant to your visitors. The more compelling your landing pages, the more visitors will stay on your site and convert.
I'm always tweaking my home page to minimize bounce rate and increase "time on site" stat.  With that comes the ultimate question: "What is causing my bounce rate to be high?"  I've found a few things that lead to high bounce rates and low times spent on the sites.
Let's take a light-hearted look at my top five potential reasons for high bounce rate:
5.  Your color scheme causes retina damage or seizures.
4.  Your copy starts out with information about you being a Nigerian banker who wants to mail you a check in exchange for another check.
3.  Your site requires a software download to work properly.  The file is called Trojan.exe.
2.  Upon landing on your home page, a video opens automatically, featuring a loud jazz flute soundtrack.  It's hosted by Mike "The Situation" from MTV's Jersey Shore.
1.  Your home page features your last blog post.  Its title is: "Welcome to the best sellers market in decades."
In all seriousness, studying your site's analytics is a great way to increase conversions and that's what it's all about.
Am I missing anything? What's on your list?