For quite some time time now, I have loved Twitter. I love how fast-paced it moves, I love the friends I have made on Twitter, I love the real-time updates, I love being able to get a birds-eye view onto events and world news, and I love that it's a great platform to drive traffic to our website.
But, I haven't always loved Twitter. I joined Twitter in 2007 because I had heard about it from someone I knew who suggested I sign up. I distinctly remember sitting at my cheap "put-it-together-yourself" Target desk with my old Dell computer, in our townhouse that we were living in at the time, typing in "twitter.com." I remember signing up, and then blankly looking at the screen thinking "OK, now what?" I saw a few people I knew on Twitter – most had only posted once or twice. On the screen in front of me was the big empty box to type something profound in. Only 140 characters to say something good. So what did I type? I don't remember my exact words but it was something about the fact that I was eating my favorite donut.
Profound.
My, how times have changed.
After that first non-momentous tweet, I tweeted here and there, but honestly felt like I didn't know what I was doing or what was really the point. And then people I didn't know me started "following me" – that creeped me out! Why were these strangers "following me" and what the heck does "following me" really mean?
I look back at that time and giggle, because now so much of my life revolves around Twitter. Twitter is one of the first things I check in the morning and then throughout the day. Since my job is to manage all the social media channels for Inman News, I am constantly checking my account, our company accounts, any pertinent hash-tags, and more.
As of this writing I am almost up to 1,500 followers and have certainly come a long way since that first tweet about donuts.

I realize though that there are still a large number of people in the real estate industry who don't understand Twitter or why they should care to be on it.
I want to step back, and out of real estate for a minute, and give you a bigger picture of why you should care about Twitter.
I recently came across this fascinating page on Twitter's blog: Twitter Tales: Our Users, Their Stories. Within this page, are links to stories of people who have used Twitter in all different industries across the world: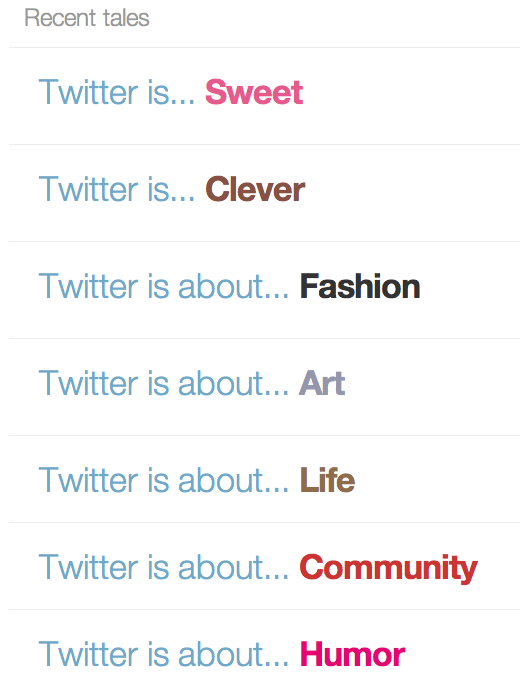 Each one of these sections contains poignant, funny, and interesting stories about how people have used Twitter. I know personally, as soon as I heard about the earthquake in Japan and the Tsunami warnings – I went on Twitter to get local, bay area information. Not one local newscast was broadcasting at 2 am when I first heard about this – but there were people tweeting and sharing good information!
I want to share with you a few amazing snip-its from this Twitter blog:
1. If you click on "Twitter is Sweet," you'll hear Jessie Oleary from Seattle, @cakespy's story:

"Using Twitter as her primary marketing tool, Jessie has mastered the art of creating clever, entertaining updates and understands how to make Twitter work for her. "I think that people see through it and get tired of it really quickly when all you do is push your product," she explains. "It's often more interesting to give them some of the back story via Twitter – in addition to updating them about relevant news and products."

2. Click on "Twitter is about Art," to hear about how Victor Samra, the manager of @MuseumModernArt uses Twitter:

"Victor paid close attention to what resonated with followers through examining re-tweets and replies. In addition, he used the account as a listening tool by searching for relevant art terms starting with simple words such as "art" and "museum," to get a feel for what people on Twitter were talking about. He looked at the replies to see what @MuseumModernArt fans wanted to know.

Victor also started conversations with fans, visitors, and institutions through replies and posting questions on the account. He sought out and followed a wide range of artists, organizations, and other notable people in the art world, thereby becoming a well-connected resource."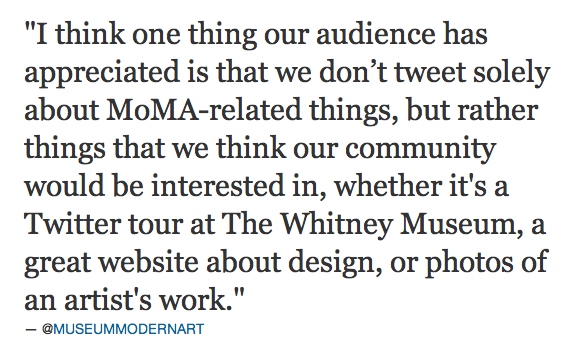 3. Click on "Twitter is about Community," to read about Ravi Pina, a techie 32-year old who created the Twitter account, @Caltrain

"I've been a Caltrain commuter since I moved here in 2006," says the techy 32-year-old who travels daily to work in Silicon Valley from San Francisco. Like many other riders, Ravi quickly grew tired of unpredictable delays. "Coming home was a particular pain-point, especially in 2007 with a spike in delays sometimes up to two hours or more. Something had to be done."

When Ravi started tweeting from @Caltrain, his idea for the account was simple: technology-equipped riders could send an email from their phone or computer to a special address Ravi managed. The first 140 characters of the email's subject line would be broadcast from @Caltrain as a Tweet to all of the account's Twitter subscribers. With over 4,000 followers and more than 400 approved contributors, the account has clearly taken off. For some, it's become an invaluable source of information throughout their workday commute."
Each of these three stories is unique, but they all have 3 common threads about how they use Twitter:
Their tweets are clever, timely, and informative
They have become a well-known, well-connected resource
They engage with their followers in conversation
Anyone reading this who is a real estate agent, marketing director at a brokerage, branch manager, broker/owner or even a CEO or President of a real estate company can learn from these real-life examples.
Before you dive into Twitter, I think it's really importatant to ask yourself these questions:
What do I have to tweet about that is interesting? What do I like to read online? Would my audience be interested in that?
What can I tweet about that reflects my personality but also show my expertise?
How can I be the well-known and well-respected resource without being pushy?
How can I be clever and unique?
Where can I get interesting content? My own writing? Other online resources?
If you are in a management position at a brokerage, you may even want to have a big brainstorm meeting where you get everyone in one room who is a key voice in the company. Ask these questions and brainstorm on a whiteboard the answers. It is really interesting to hear what the marketing department says versus the transaction department, versus the executive staff, shareholders, etc.
Once you have a brainstorm of what and why you want to tweet – the next big question will be who. Who will manage the voice of the brand, who will develop a day to day plan, who will monitor the account and reply to people in a timely manner? Even if you are not a broker/owner but just a hard-working real estate agent working day in and day out to do the best possible job for your clients, I know that you can still benefit from doing this exercise.
I'd love to hear your Twitter success stories. Have had successful transactions that you can attribute to Twitter? Have you made priceless connections because of Twitter? Have you expanded your network and reach because of Twitter? Have you become a better writer because of Twitter? What is your success story? Share your story below and we may re-publish it here on FOREM!
Written by: Katie Lance, Senior Marketing Manager, Inman News, @katielance