It seems like Facebook is rolling out small changes almost every day for Facebook business pages. Just the other day, I did a blog post about the new format for creating a business page. It looks like Facebook is now testing having 3 new buttons on Facebook business pages: 'Top Posts', "Most Recent" and "(Facebook Page Name)"
You can see they have rolled it out on the Starbucks page here: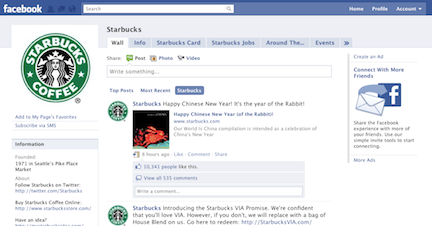 Here's a closer shot: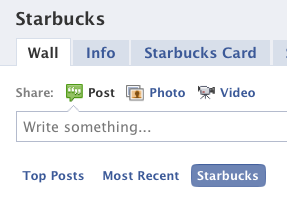 It seems like the "Top News" and "Most Recent" works just like the Facebook home page we are all familiar with – where you can choose to see your own "Top Posts" (which are filtered by Facebook to show you what Facebook thinks you most want to see based on your activity) or your "Most Recent" (which is basically all of your friends and pages – unless you have limited how many to show in your feed).
It's unclear at this point if Facebook is going to roll this out to all pages, or if only some pages are "testers" for this new feature. I could certainly see how a page that gets a tremendous amount of posts from there members (can I call them "fans" still?? I loved that! :)) – how it would be very beneficial.
Stay tuned – I'm sure there will be more from Facebook and specifically Facebook Pages coming soon!
By the way, did you know you can find us on Facebook here and here and here? We'd love to you to join the conversation!
What do you think of this new change? Leave me a comment below, and if you haven't left me a comment with a link to you Facebook business page, please do so!
Written by: Katie Lance, Senior Marketing Manager, Inman News @katielance