Guest blogger Jay Thompson is the designated broker and co-owner of Thompson's Realty in Phoenix, AZ. You can find his award-winning blog at PhoenixRealEstateGuy.com. His latest blogging adventure is RealEstateBlogPro.com.
Do you ever wonder what and where people are clicking on your website or blog?
You should be wondering.
Most people have some sort of traffic analytics installed (Google Analytics, SiteMeter and Get Clicky are popular) – as you should. These programs will help you understand how people find your site, where they come from, and where they go to. But they do not always tell you what people do when they get to your site.
And what people do once they land on your site is critical. After all, you can have all the traffic in the world, but if they don't do something that ultimately allows you to "capture" them as a potential prospect and "convert" them to a client, then what is the point in having a real estate web site?
Enter the heat map.
A heat map is a visual representation of where people click on a web page. Darker/more intense colors indicate a greater amount of clicks.
Here is a heat map for my blog's home page for the first two weeks of September: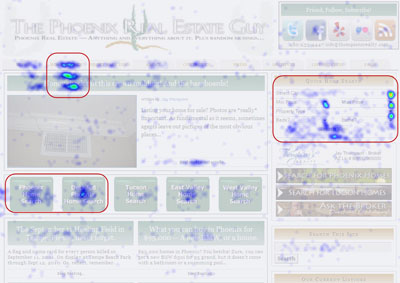 Note the areas that I outlined in red. They show a high density of visitor clicks. Given that clicks in all these areas will lead a visitor to a home search – which is exactly where I want them to go – this is a good thing.
Yes, my Google Analytics will tell me that a lot of people go to the home search. But what Google Analytics won't tell me is where on the page people click to in order to get to the home search. A prime example is in the "Quick Home Search" area, which is outlined in red on the right sidebar in the image above. That quick search used to be located further down the sidebar. I noticed, via my heat map, that not many people were clicking on it. So I relocated that widget to the top of the sidebar and the clicks increased dramatically.
Heat maps are a fabulous tool for testing placement of design elements.
Another use for heat maps is finding where people are clicking but with no result. The last thing you want is for a site visitor to click something and have nothing happen. This frustrates visitors, and a frustrated website visitor will swiftly leave your site.
Here's a perfect example. The theme and skin I use for my blog places an image for the most recent post alongside a snippet of text. By looking at my heat maps, I noticed a lot of people were clicking on that image: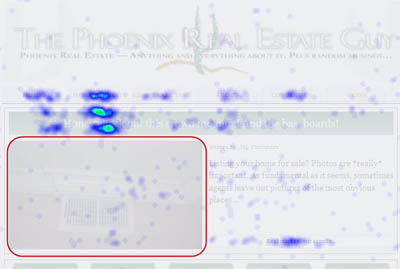 The problem is, when people clicked that image nothing happened. They were expecting to be taken to the article, but they got nothing. So I added some code that would send the visitor to the full article when the image was clicked. A few minutes of work and we now have fewer frustrated site visitors.
Without a heat map, I never would have known how many people were clicking on that image.
So, how do I get a heat map for my site?
There are a few options for adding heat map capability to your site analysis arsenal.
ClickHeat: The images above are generated from ClickHeat, an Open Source (free) software program from LabsMedia. Installation can be a little tricky for the novice, as you have to upload files to your server in addition to placing some code on your pages. ClickHeat doesn't have the depth of features available on the more commercial products listed below. On the plus side, there are no limits on the number of clicks and pages you can monitor with ClickHeat.
Crazy Egg: Crazy Egg is a very polished, very powerful heat map generator. Installation is straightforward: Crazy Egg will generate a small piece of code that you need to place on every page you want monitored (if you're installing on a WordPress site, placing the generated code in your footer.php file will put the code on every page). They have various account levels based on visitors and number of pages monitored. Prices range from free to $99/month. The free level will track up to 5000 visitors/month on one page
ClickDensity: ClickDensity is very similar to Crazy Egg. Similar installation, features and pricing. Their pricing tiers range from free to $400/month, but their $5/month plan will store 10,000 clicks on unlimited pages – probably the best deal of the pay versions.
Which of these versions you should use depends on your needs. Personally, I want to track a large number of clicks on a large number of pages. So I opt for ClickHeat. It's not as flexible as Crazy Egg or ClickDensity but I'll live with that and save $100/month. If you don't need to track as many visits, why not check them all out and pick the one you like? The free versions of Crazy Egg and Click Density may fit your needs perfectly.
Be careful, heat maps can be addicting…
Are you currently using a heat map on your website? Let us know how you like (or don't like) that product. Any other tips?