Guest post from Debra Trappen, Director, Career Development, Coldwell Banker Bain|Seal
Why do I attend Agent Reboot…again and again?
Well, it comes down to two things: Education and Connection.
It has been just a few weeks since Agent Reboot (#agentrb) was in Seattle… and I am STILL feeling the wonderful residual effects.  Being a passionate participant in and advocate for the exciting, tech-infused side of real estate (and a self-professed education junkie), I jump at the opportunity to attend these conferences!
I always learn something.
It may be a new twist on a traditional process,  a fabulous app to replace a manual system, or an upgrade to an existing technology… Whatever it is – there is a tip/trick that makes Agent Reboot worth it. Every single time.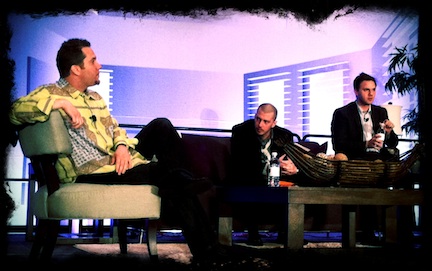 The powerhouse discussion pictured above was led by Daniel Rothamel (@RealEstateZebra).  He expertly wrangled Dale Chumbley (@dalechumbley), Chris Smith (@techsavvyagent) and Darin Persinger (@darinpersinger)… through sharing ideas on streamlining your business with traditional AND new technology.  The advice was flying around left and right – it was amazing.  If you have not seen this chat in REAL life – register for the one coming to your city and hear/see if for yourself.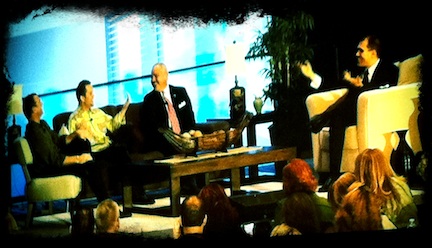 The market discussion, again moderated by Daniel, with Coldwell Banker Bain's Ron Sparks (@RonGSparks),  Dale Chumbley, and Windermere's OB Jacoby was super informative and relevant.  Listening to local experts share their vision and views of WHAT is happening right in our backyard was a positive shot in the arm!  Not to mention Ron's closing tip on the Mass Text app was a big hit… wonder how many people downloaded that one??  Hmmm….
In the end, however, the number one reason I attend will always be networking and connecting with peers.
Many who, until these events, are purely online relationships like: Christina Ethridge (@CEthridge), Chuck Ethridge (@Chuck_Ethridge), Kathy Stilwell (@kathystilwell), Kelly Mitchell (@HawaiiRealty) and the fun Inman team (@Inman_Will, @katielance, @Inman_Tim)!
It always makes the morning so exciting when you FINALLY meet the people – IN REAL LIFE – whom you have been collaborating and engaging with online! Long gone are the days of attendees nervously entering a room full of people they don't know… and I, for one, LOVE it!
The TweetUps, breaks and lunches surrounding the event also allowed me to take relationships with many of my Agent Reboot 2010 peeps  to another level!  Getting together with my top tweeps like John Payson (@johnpayson), Stephanie Baldwin (@depmodechick), Teri Conrad (@TLCHome), Rebecca Permack (@rebeccapermack),Dan Keller (@dankellermtg), and all the speakers/peeps mentioned above is my FAVORITE part of Agent Reboot!
In the end, the day reminded me how far we have come… and that there are still amazing mountains to climb and processes to perfect. This gal won't be waiting until next year for my next #agentrb – that is just too far away.  There are road trips to the Agent Reboot events in Vancouver, BC and Portland, OR on my PlanCast.  Hope to see YOU there too… along with Linda Aaron (@skynnard). Stop us and say hi…we will likely be in/near the front row. :)
About the author: Debra Trappen is the Director, Career Development at  Coldwell Banker Bain|Seal. Debra can be found online here http://about.me/debra11 or on Twitter @debra11