It's hard to please 900,000,000 people.
Facebook is learning that the hard way this week.
Recently Facebook changed your default email address for your personal profile to your Facebook email address.
Wait…You didn't know you had a Facebook email address?  It's your facebook personal profile username @ facebook.com.  For example:  mine is jimmy.p.mackin@facebook.com.
To make matters worse, they decided to hide your other emails from your friends.
If one of your Facebook friends sends an email to your Facebook email address – it will end up in your Facebook Message inbox.  No big deal right?
Here is the problem….
If a Facebook friend sends you an email from an email address that's not set up with Facebook (ex. a work email), it will end up in your "Other Inbox" – the Facebook equivalent of your Spam Inbox.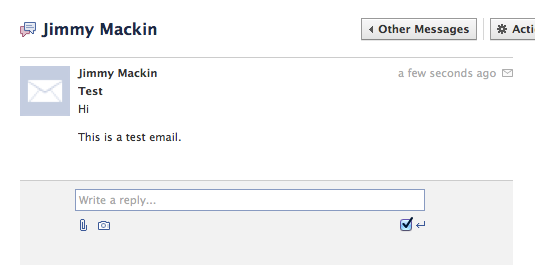 I recommend that you change your default email address right now.
Here is how:
Step 1 – Click on Update Info on your Facebook Timeline

Step 2 – Under your Contact Info > Select Edit

Step 3 – Change your email address to be "Shown on Timeline"

I'll be hosting a webinar this Friday at 1pm EST to cover all of Facebook's recent changes. Click here to register for my Facebook Webinar 
If you have any questions about how to change your email address, please leave a comment below.