The way Donald Trump remembers it, he was willing to pay Vera Coking millions of dollars and provide her with free housing for life in one of his luxury high-rises if she'd sell him a 29-room boarding house in Atlantic City that she and her husband bought for $20,000 in 1961.
The way Coking's family remembers it, she was willing to sell, but neither Trump nor Penthouse publisher Bob Guccione, who started building a casino on the land that became Trump Plaza Hotel and Casino, was willing to pay fair market value. Guccione and Trump both had to build around the three-story boarding home.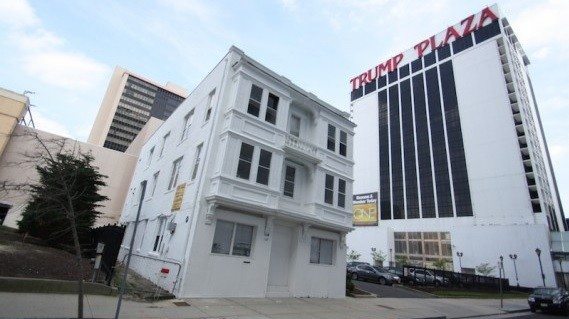 Trump Plaza had to be constructed around 127 South Columbia Place because Donald Trump couldn't convince owner Vera Coking to sell. Photo: auctionadvisors.com.
In 1998, Coking, 70 at the time, told the New York Daily News, "If Trump's thinking I'm gonna die tomorrow, he's having himself a pipe dream. I'm gonna be here for a long, long time. I'll stay just to see he's not getting my house. We'll be going to his funeral, you can count on that."
Fast forward and Coking is 91 today, and living in California. The boarding house at 127 South Columbia Place will go on the auction block today, with a starting bid of $199,000, having been listed last fall for $995,000. Trump, who has unloaded most of his ownership in the struggling Trump Plaza, won't say if he's interested. Source: Associated Press via lasvegassun.com.