Editor's note: This product review focuses on Real Estate Shows, which offers tools to build online videos. Click here for a description of the product rating and review process. Please send your feedback, and recommendations for products to review, to productreview@inman.com.
Product: Real Estate Shows (RealEstateShows.com) free trial.
About: Real Estate Shows is an online tool for creating online video presentations that feature panning and zooming displays of still photos, along with text descriptions and a music track. Video options include 30-second, 60-second and 90-second videos. The site advertises that the videos "will look and feel like TV commercials." Real Estate Shows is managed by Bill Leider, Jeff Turner and Steve Zehngut.
Cost: The site offers a 14-day free trial and a subscription-based service for $125 per year for unlimited real estate shows.
Review team: Linda Davis (leader), Jim Fitzgerald, Mark S. Bergman.
Ratings: Ease: 92. Value: 93. Power: 87 (scale of zero to 100 — 100 is best).
Real Estate Shows offers to simplify and automate the creation of online real estate videos by uploading photos, customizing display text and choosing background music.
The video content can range from agent introductions to property and neighborhood profiles.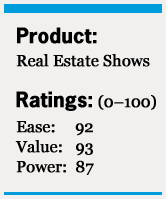 A panel of three real estate professionals took the company's tools for a test drive for an Inman News Product Review, signing up for a 14-day free trial.
The panel reviewed and rated the company's tools in three categories: "ease," "value" and "power." The ratings can range from zero to 100 (100 is the best). (Click here to view details on Inman News Product Review Rules.)
Taking an average of the three reviewers' ratings, Real Estate Shows scored the highest (93) for value, a measure of how helpful the product is for real estate professionals and consumers alike, and the overall cost vs. benefits of the product.
Reviewers gave an average rating of 93 for ease — and team leader Linda Davis gave a perfect score of 100 in this category. Ease is a measure of the product's ease of use for real estate professionals and consumers alike. …CONTINUED
And the site received an average rating of 87 for power, a measure of the product's level of innovation, advanced features, and effectiveness in replacing existing tools and methods. Among the questions team members consider for this category:
Can it replace existing tools and methods?
Does it have the power to change the industry?
Is it scalable?
Does it have advanced features for tech-savvy users?
Does it integrate with other products?
Davis stated in her review that the video-creation tools "couldn't be much easier to use or more intuitive, whether you are creating a show or just watching one."
She also noted that there are step-by-step video instructions "just in case you stumble."
"The photo uploader automatically resizes the photos, often a problem for technology novices," she also stated. "Support is excellent and the Real Estate Shows Blog offers additional ideas and tips."
While the largest show (90 seconds in length) offered is limited to 15 photos, Davis noted that "there is a link to allow for additional photos outside the regular show."
Davis also said in her review that there are tools for technologically advanced users to showcase their listings.
She noted that the subject matter of the videos is "limited only by your creativity," and that real estate professionals can produce fliers and create widgets of their shows to place on their blogs or Web sites.
The site also offers tracking reports to evaluate the effectiveness of the shows, and offers company-level accounts that give agents individual accounts while allowing the company to share all shows.
There are features that allow Real Estate Shows users to connect with consumers through Web sites including Realtor.com, Trulia and Zillow, and social networking sites, Davis also said, and "importantly, you can post your show to your (Multiple Listing Service) with the available MLS Compliant Feature."
She said she was not able to view a show on her iPhone, though, adding that photos in the shows "are not super crisp" and the "ability to add more links would make this great product even better."
The $125 per year subscription price "is a bargain considering what Real Estate Shows offers. If you are a tech wizard you can probably produce a free alternative but expect to invest more time in the process," Davis said. …CONTINUED
She acknowledged having used the Real Estate Shows product previous to the review period and stated that her previous use would not bias her judgment. She also noted that the product has been equipped with several new features since she last used it.
Review team member Jim Fitzgerald said Real Estate Shows does offer a good value for the price and it is easy to use, though "the product seems a little dated" and "the loading is a little slow."
He added, "As for what I have seen on the market for products, this product is good and easy but not the best in terms of quality and graphics."
While Real Estate Shows is a good, simple product, he said it lacks a "real wow factor."
Reviewer Mark S. Bergman described Real Estate Shows as a "competitive, but no unique product. While most functions work, I just can't get excited about any one feature."
Even so, he said, it is a "mission-critical application for the middle-of-the-road agent." While it is "certainly not cutting edge … many real estate sales agents and brokers are behind the curve so there is a large market," Bergman added.
Like Davis, Bergman noted that the system is scalable — "good for the solo practitioner, but includes management features for the larger office."
Bergman suggested a possible enhancement to the site: a counter to let users know how many photos they have selected for the initial upload prior to the upload attempt.
"When one selects too many photos, the system provides a message indicating that certain photos will not be included in the upload. Those photos will be the last selected. Ongoing feedback via a counter would make the process more productive," he stated.
He also said he couldn't find a tool to edit the orientation (landscape vs. portrait) of photos once they were uploaded into the system.
Just as the site advertises, Bergman said he did, in fact, create his first video tour at Real Estate Shows in five minutes.
Basic site features are easy for the average user, he also stated in his review, and advanced features are the product's real strength, "but I have doubts about the average agent using the advanced features."
It's easy to publish shows to other sites, he noted, though there are a "limited number of Web sites supported for publishing (or syndicating)" the shows.
Individual reviews:
Linda Davis
Jim Fitzgerald
Mark S. Bergman
For details on the Inman News Product Review process, please click below:
Inman News Product Review Rules
More product reviews:
Foreclosure.com
T-reX Global
***
What's your opinion? Leave your comments below or send a letter to the editor.