Homebuyers and sellers searching for a Realtor in the Houston area will be able to go online and see which agents have the most transactions and listings in the neighborhood they are interested in doing business, thanks to a new Web-based application green-lighted Monday by the Houston Association of Realtors.
HAR's Realtor Match application allows consumers to access statistics from the association's multiple listing service, HAR.com, by entering a ZIP code or drawing shapes on a map to identify the specific area in which they want to buy or sell.
Margie Dorrance, who serves as chairwoman for the HAR board, said in a statement Monday, "HAR has always been a cutting-edge Realtor association. I think it speaks volumes about the leadership in Houston to note that the implementation of this new feature passed our board of directors with a unanimous vote."
Development of the application was made possible through a "Game Changers" grant from the National Association of Realtors (see story), which will make it available to other Realtor associations, said Bob Hale, president and CEO of the 23,000-member association.
According to HAR's "Game Changers" application, providing access to actual MLS transaction data will "eliminate the need for consumers to base their Realtor selection decision (on information) from non-Realtor predatory or pirate services" that use Realtor ratings as "a pretense to enter the commission line" or which sell agents the right to be a preferred provider in a given ZIP code.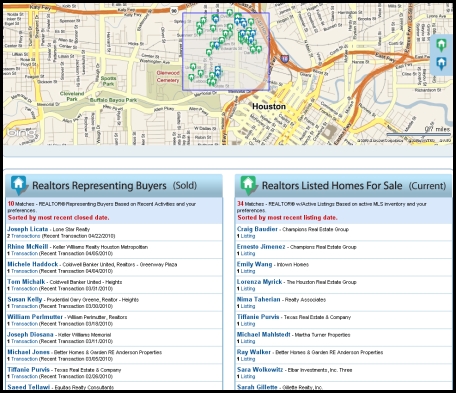 A screenshot of the Realtor Match tool.
"In today's world, consumers are going to get what they want, and somebody is going to give it to them," Hale said. "We can either do it, or watch somebody else do it."
HAR already offers consumers an agent rating system, but agents can choose not to participate. There will be no opt-out of the Realtor Find system, and some agents are worried that it will have the unintended effect of stifling competition.
The system may make it more likely for consumers to choose established agents who are currently dominating a given market, rather than take a chance with a new agent or an experienced agent who doesn't have a track record in a particular neighborhood.
"My first thought is that an excellent, qualified Realtor may not get selected to compete because they haven't worked within a specific area," said Rita Armstrong, a Realtor with Prudential Gary Greene Realtors.
Armstrong, who has eight years of experience, said she's shown several homes in one subdivision, but never listed a home there.
"That doesn't mean I don't know all about that subdivision," but it's "owned," she said, by one agent and three or four others who occasionally get a few listings there.
Having listed and sold homes all over the Houston Bay Area in all price ranges, "I can see benefits of the application for myself and other seasoned Realtors in some areas," Armstrong said.
But she also worries that it "could be detrimental in expanding my business and the business of other agents."
James Hillin, a Realtor with Keller Williams Realty Greater Northwest, said his five years as a mortgage officer mean he has a lot of experience in real estate. But as a new Realtor who has not sold any homes yet, "not being able to opt out would hurt me."
HAR is sensitive to such concerns among its members, and in an attempt to level the playing field for new agents, have set up the Realtor Match application to rank search results by the most recent transaction or listing.
That way, agents with only one sale or listing can still show at the top of the list, or near the top, if it's a recent listing or sale. Consumers can still scan the list of search results for agents with the most sales or listings.
The Realtor Match application should also prove valuable to buyer's agents, said HAR Chief Technology Officer Taqi Rizvi, because consumers will be able to see how many transactions they've been involved in in a given neighborhood.
"This allows the consumer to select the area they are interested in, then see the agents" that are representing buyers and sellers in that area, Rizvi said. "This is completely database driven," as opposed to systems on other sites in which agents buy exposure in certain ZIP codes.
Users first let the system know whether they are buying or selling, then select a property type, time frame (three, six, 12 or 24 months), and the area they are interested in. Results can also be limited to Realtors who have opted to participated in HAR's consumer rating system.
Another agent match site for consumers that's taking a data-driven approach, NeighborCity.com, is trying an even more ambitious tack, building an algorithm that takes into account factors like how well agents do in negotiating on behalf of their clients.
For now, NeighborCity is still in the process of acquiring the sold data it needs to provide such insight to consumers. CEO Jonathan Cardella said the site has dropped a data provider he said was responsible for complaints about inaccuracies on the site, and is "looking forward to having deep sold and performance data for most agents in the country."
Cardella said Friday he couldn't wait to see HAR's Realtor Match, "but I think the problem with an MLS providing this technology is it's like the wolves guarding the sheep."
An MLS, Cardella said, "Will always be stuck in the political quandary of the agent vs. the consumer, and the agent will always win because they are the ones paying the fees."
Move Inc., the operator of Realtor.com, has said it's also looking at ways to provide consumers with access to statistics on Realtor performance, either by building on existing relationships with MLSs and Realtor associations, or by giving agents and brokers the ability to enter such information themselves.
Move CEO Steve Berkowitz told Inman News last year that one option would be allowing consumers to call up a recently sold home and see who represented the buyer and the seller in the transaction. Another option might be to allow consumers to see all the transactions a particular Realtor has handled.
***
What's your opinion? Leave your comments below or send a letter to the editor.