Mortgage rates have been at rock-bottom for longer than anyone expected — but are consumers taking advantage of the economic boon to buy a home? Specifically, a new home?
The latest data from the U.S. Census Bureau and Department of Housing and Urban Development (HUD) indicate that new home sales sales are quite a bit stronger than last year, at least. Today's New Residential Sales report, recapping data from June 2016, shows that sales of new single-family homes were at a seasonally adjusted annual rate of 592,000.
That's 3.5 percent higher than the May 2016 estimate (572,000) and 25.4 percent above the June 2015 estimate of 472,000.
Ralph McLaughlin, the chief economist at Trulia, noted that this is the best month of home sales since February 2008 in an emailed statement: "New home sales jumped sharply in June, and marked the best month since February 2008," he said. "This is a continued sign that demand for homes remains solid and aptly reflects increasing homebuilder confidence.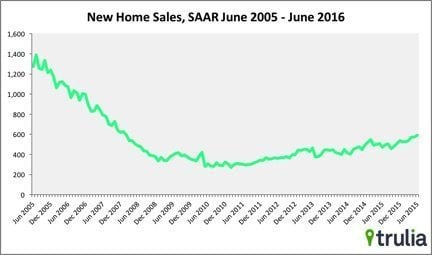 What's in it for you? How real estate organizations boost your business.
See why associations like AREAA can benefit you both professionally and personally
READ MORE
"The share of all home sales composed of new homes ticked upward to 10.6 percent in June, as new home sales continue to slowly ease the crunch of low existing inventory," McLaughlin added.
Other data from the Census Bureau and HUD:
The median sales price of new homes sold in June 2016 was $306,700.
The average sales price was $358,200.
The estimate of new homes for sale at the end of June (seasonally adjusted) was 244,000.
This represents about 4.9 months' supply of inventory at the current rate of sales.
The Census Bureau and HUD use sample surveys to collect data for their home sales, which means this data is subject to sampling variability as well as the typical statistical variance. The survey is based on a sample of houses pulled from building permits. "Sales" are defined as deposits taken or sales agreements signed, not necessarily closings.