Movie stars recall their most iconic roles. Athletes look back on their record-breaking game. And housing experts talk about that brief moment when home prices hit an all-time high — the glorified calm before the housing bust storm.
According to Black Knight Financial Services' most recent Home Price Index (HPI) report, home prices in May 2016 registered at $263,000, just 1.8 percent off the June 2006 peak of $267,000. Moreover, price tags are up 31.7 from the market's bottom.
Specifically, prices rose 1.1 percent from April 2016 and 5.4 percent year-over-year, reflecting a continuation of the steady growth trend recorded in recent months.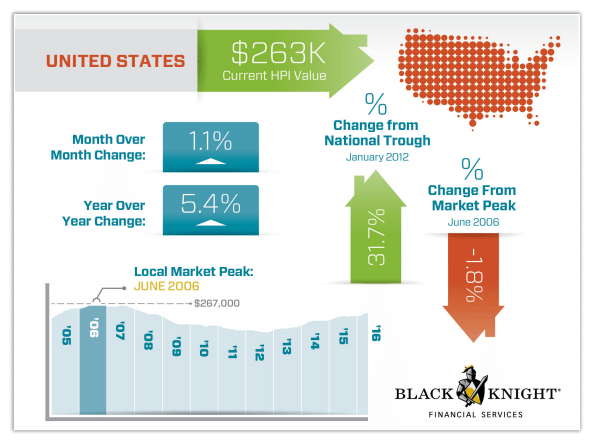 Idaho and North Dakota led the pack in upward price movement with 1.9 percent and 1.8 percent growth, respectively. All states and metros experienced increased prices in May month-over-month.

The irreplaceable human
Why the people-driven side of technology shapes the all-important real estate consumer journey
READ MORE
Mountain states dominated eight of the top 10 top-performing metros, with Cheyenne, Wyoming, and Fort Collins, Colorado, leading the way with 2.1 percent positive price movement over April.
The nation's 20 largest states and 40 largest metros also saw year-over-year price increases — the only exception being St. Louis, which had price depreciation of 4.3 percent since May 2015.
Every month, Black Knight Financial Services releases a home price index (HPI), which measures home price changes across the country. Black Knight's HPI uses repeat sales data from a public records data set as well as Black Knight's own loan-level mortgage performance data. Non-disclosure states do not include publicly available property sales price information; for these states, Black Knight combines and matches records across its own data assets. The company reports REO discount rates and five price levels across more than 18,000 ZIP codes. Numbers have not been seasonally adjusted.