Although growth this year in Brooklyn is not on pace with the year prior, average price is up 1.1 percent since last year.
At $1,398,191, the average home price in Brooklyn grew 2.8 percent since the second quarter of this year.
Among Brownstone and North Brooklyn neighborhoods, Park Slope held the most activity, with 18 percent of closed transactions.
Despite prior reports of a looming slowdown for Brooklyn sales, a new report shows activity and prices within in-demand neighborhoods continue to escalate – although not at the same record swells seen in 2015.
According to the latest market report from Ideal Properties Group, Brownstone and North Brooklyn sales prices boosted to just south of $1.4 million in the third quarter, while average sales price among residential properties in the area is up 1.1 percent year-over-year and 2.8 percent from last quarter.

Median prices, though softer, illustrated a similar upward trend, according to the report. The median price for both Brownstone and North Brooklyn sales reached $1.137 million in the third quarter.
"Perhaps only slightly, prices continued to increase for residential properties in Brownstone and North Brooklyn, dispelling concerns of a dramatic market slowdown," Aleksandra Scepanovic, managing director of Ideal, said in the release. "We believe sales in the last quarter of 2016 will also remain markedly high and expect 2017 to be another landmark year for the area's real estate."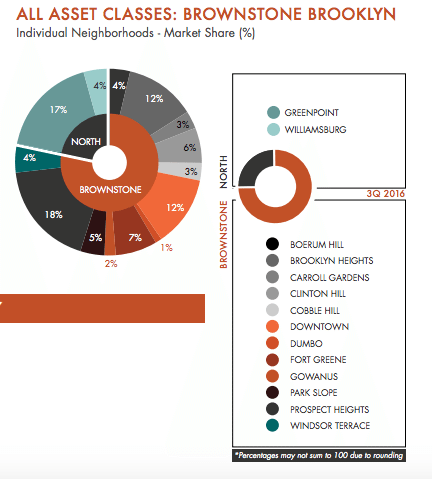 North Brooklyn is defined as Williamsburg, the Navy Yard and Greenpoint, while Brownstone (or Northwest) Brooklyn encompasses Boerum Hill, Brooklyn Heights, Carroll Gardens, Clinton Hill, Cobble Hill, Park Slope, Prospect Heights, Windsor Terrace and the Columbia Waterfront District, along with portions of Downtown, Dumbo, Fort Greene, Gowanus, Red Hook and Vinegar Hill.
According to Ideal, these areas are considered the most popular sales markets in all of Brooklyn.
Park Slope was the most active neighborhood for residential sales in the last quarter, achieving 18 percent of completed transactions. Williamsburg sales accounted for 17 percent of closings, while Brooklyn Heights and Downtown tied with 12 percent each.
Townhouses now average $2.673 million, up 2.7 percent from both last quarter and last year, the report shows. Meanwhile, the median price within the townhouse category – now $2.335 million – dipped 0.2 percent since the third quarter of 2015, but posted a minor 0.2 percent boost from the prior quarter, also.
The condominium market in Brownstone and North Brooklyn averaged over $1 million in sales price after 10 successive quarters of growth. Condo prices increased an average 13.4 percent annually, reaching $1.318 million in the third quarter.
Per the pattern, co-ops showed a less expensive price point, at an average $902,725, but revealed 10.8 percent year-over-year growth. However, this is a 0.9 percent drop since last quarter, according to Ideal.
Unchanged from the second quarter results, South Brooklyn held 53 percent of total transactions for the greater area. However, Brownstone and North Brooklyn sales encompassed 29 percent of activity from a previous 27 percent in the second quarter, while East Brooklyn held 18 percent of sales compared to 20 percent last quarter.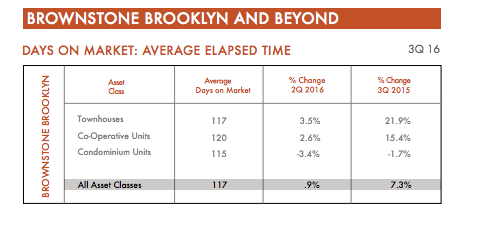 Time on the market dropped 0.9 percent since last quarter and 7.3 percent since last year, reaching a 117-day average. A large portion of the market – 44 percent of sales – sold below list, while 37 percent received more than asking price. A lesser 19 percent closed at asking price.