A monthly traffic ranking of real estate Web sites showed the leading portals firmly entrenched in March, with just one site entering the top 20, and only six sites breaking into the top 100.
RealEstate.com — the listing and valuation site operated by LendingTree LLC — was the lone newcomer to the top-20 list in March rankings published by Web metrics company Hitwise.
The sites atop of the Hitwise rankings continued to grab the lion's share of traffic in the category. The top 10 sites accounted for about 27 percent of all visits to sites in the real estate category, while 38 percent of traffic went to sites ranked in the top 20, Hitwise said.
There's been some jockeying for position, but no new additions to the Hitwise top-10 so far this year. With 6.85 percent market share, Realtor.com remained the most popular site in the real estate category in March, followed by Yahoo! Real Estate (3.65 percent), Zillow (3.25 percent) and ZipRealty (2.38 percent). That's the same order in place since August, when ZipRealty moved into fourth position.
Rounding out the top-10 list were RE/MAX Real Estate (2.24 percent), HUD.gov (1.99 percent), Rent.com (1.78 percent) ServiceMagic (1.61 percent), Homegain (1.6 percent) and Trulia.com (1.57 percent).
HUD.gov and ServiceMagic each moved up one position in March, while Rent.com and Homegain fell one place. But there have been no newcomers to the top-10 list since December, when Trulia.com bumped RealtyTrac into 11th place.
RealtyTrac, which offers information on distressed and foreclosed properties, has continued to slide in the Hitwise rankings, to 13th in January, 15th in February and 17th in March. Other top-20 sites slipping in the March rankings were Foreclosure Store (down from 12th to 14th), Foreclosure.com (down from 13th to 15th), and Reply! (falling from 18th to 19th). MyNewPlace fell out of the top-20 altogether, displaced by RealEstate.com (up from 22nd to 20th).
Top-20 sites moving up in the Hitwise rankings in March were Century 21 Real Estate (up from 14th to 12th), Apartments.com (16th to 13th), MSN Real Estate (17th to 16th), and Coldwell Banker Real Estate (19th to 18th). Homes.com maintained its 11th place position from February.
There was limited "churn" in Hitwise's Top 100 list of real estate sites, with six new sites entering the list in March, compared to eight in February. The top 100 real estate Web sites accounted for 67 percent of traffic in the category, Hitwise said.
The six companies entering Hitwise's Top 100 list of real estate sites in March were HarmonHomes.com (moving up from 101st in February to 85th in March), National Home Management Solution (106th to 91st), FrontDoor Real Estate (108th to 94th), About Home Buying/Selling (109th to 95th), Agentlistingssource.com (from unranked to 97th), and ApartmentFinder.com (110th to 98th).
Falling out of the Top 100 in March were Sublet.com (sliding from 87th in February to 104th in March), Curbed (90th to 107th), realestate.msn.realtor.com (92nd to 113th), Socialserve.com (95th to 101st), Rental Properties Online (97th to 110th), and Landwatch.com (99th to 119th).
"Fast moving" sites for the four months ending in March included Charles Robbins Realtor (up 678 places), Gundaker Realtors (up 407 places), Hudworks.com (up 1,191 places), Relocation.com (up 439 places), Sheldongood.com (up 464 places), ResortQuest Outer Banks, North Carolina (up 240 places), wihomes.com (up 173 places), Karichele Realty (up 421 places), The RiskMeter (up 966 places), and Student Accomodation (up 885 places).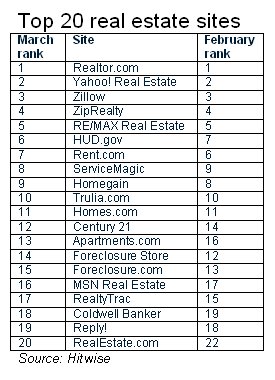 ***
What's your opinion? Leave your comments below or send a letter to the editor.