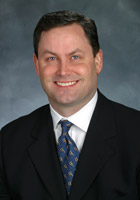 A top Freddie Mac executive who'd worked at the company since 1992 was found in dead at his home in Reston, Va. today, an apparent suicide.
David Brian Kellermann, 41, who became acting chief financial officer in September when Freddie Mac was placed in government conservatorship, leaves behind a wife and daughter.
"The Freddie Mac family is truly saddened by the news this morning of David Kellermann's death," said the company's interim CEO, John Koskinen, in a statement. "We extend our deepest condolences to David's family and loved ones for this terrible personal tragedy."
According to a company bio on Freddie Mac's Web site, Kellermann had been with Freddie Mac for more than 16 years, beginning as a financial analyst and auditor. He then worked for several years in the company's securities sales and trading unit, and held positions in the company's capital markets division.
Before being named acting CFO, he was vice president, strategy execution and integration, and the Investments and Capital Markets division controller.
A graduate of the University of Michigan who also held a master's of science degree in finance from George Washington University, Kellermann was a volunteer board member of the D.C. Coalition for the Homeless.
Koskinen said Kellermann's "extraordinary work ethic and integrity" were inspiring, but that he would be most remembered for his "affability, his personal warmth, his sense of humor and his quick wit."
As acting chief financial officer, Kellermann was responsible for Freddie Mac's financial controls, financial reporting, tax, capital oversight, and Sarbanes-Oxley compliance, and oversaw the company's annual budgeting and financial planning processes.
Police have not confirmed Kellermann's death was a suicide, but ABC News reported that he was founding hanging in his basement this morning. ABC noted that Kellermann had been selling off his shares in Freddie Mac in recent months for a fraction of their former value.
According to an SEC filing, the 38,861 shares of Freddie Mac Kellermann owned as of April 11 were worth about $33,400 at Tuesday's closing price of 86 cents per share. Those same shares would have been worth about $2.9 million as recently as May, 2007, when Freddie Mac was trading at $67 a share.
***
What's your opinion? Leave your comments below or send a letter to the editor.