CORRECTION: This article has been updated to correct an error. Trulia was not the first real estate-related company to roll out a price-tracking tool to the public. ZipRealty announced the debut of a "Price Track" tool in 2006 (see article), and Redfin.com last year released a price-reduction search filter.
Trulia Inc. has rolled out a new tool to allow consumers to search for properties whose owners have slashed their asking price after listing them for sale.
In announcing its new price-reduction search filter, Trulia released data showing that about one in four live listings on the site have seen at least one price cut in the last year, ranging from 6 percent to 16 percent on average in 15 major markets.
More than 30 percent of listings in New York City, Los Angeles and Phoenix had been subjected to price reductions during the year ending April 13, Trulia said.
The average reduction was smallest in Houston (6 percent), Denver (7 percent) and Albuquerque (7 percent), and largest in Las Vegas (16 percent), Miami (15 percent) and New York City (14 percent).
The price reduction search tool is accessible from the Trulia.com home page and can also be selected as an option in refining search results or as an additional search filter in an advanced search. Detailed information regarding multiple price reductions and prior sold data is also available on each property listing page.
Online brokerage Redfin this week said it's now offering consumers who register to use the company's Web site the ability to see additional listing details on a listing's history, including past listings and price reductions in markets where such data is available to Virtual Office Web (VOW) site operators (see story).
In 2006, ZipRealty announced the launch of a "Price Track" feature that displays a for-sale home's price history, including the amount and date of each price reduction (see Inman News).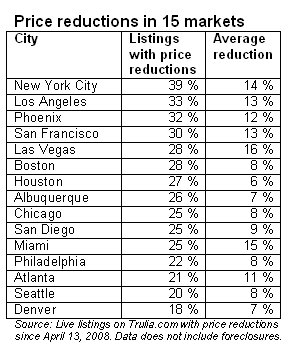 ***
What's your opinion? Leave your comments below or send a letter to the editor.