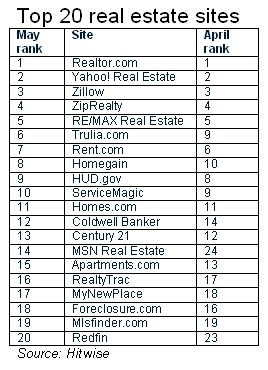 MSN Real Estate and Redfin managed to break into the list of Top 20 real estate Web sites maintained by Hitwise in May, but no new sites have cracked the Hitwise Top 10 so far this year.
Hitwise said the Top 10 real estate Web sites grabbed 29 percent of all traffic in the category, and that the top 20 got 40 percent of traffic. The average visit to sites in the category was about 12 minutes.
Realtor.com, Yahoo! Real Estate, Zillow, ZipRealty and RE/MAX Real Estate continued to hold the top five spots on the Hitwise Top 10 list — the same order in place since February.
No new sites have managed to break into the Hitwise Top 10 this year, but there's been a battle for positions six through 10.
Trulia and Homegain moved up on the Top 10 list in May, at the expense of Rent.com (7) and HUD.gov (9), which each fell one place, and ServiceMagic.com (10), which fell two positions.
Trulia, which in December became the last site to break into the Hitwise Top 10, rose from ninth to sixth from April to May. Homegain moved up from 10th to eighth, reclaiming the rank it held in February.
MSN Real Estate, which fell out of the Hitwise Top 20 in April, bounced back to become the 14th most trafficked real estate Web site by market share in May, Hitwise said.
The only other site to break into the Top 20 was Redfin, which continued a steady climb up from 31st in February to claim the 20th spot on the list. MSN Real Estate and Redfin bumped Reply.com and VisualTour.com from the Hitwise Top 20. …CONTINUED
Reply.com, which ranked 15th in April, "did not rank" in the real estate category in May, Hitwise said. A Hitwise spokesman said traffic to Reply.com is up, but that the site has been reclassified out of the real estate category.
Boosting their previously held positions on the Top 20 list were Coldwell Banker Real Estate (12), RealtyTrac (16) and MyNewPlace (17). Century 21 Real Estate slipped one place, to 13th, and Apartments.com (15) and Foreclosure.com (18) each fell two places from April to May.
Nine sites entered the top 100 in May: Texas Unclaimed Property ranked 77, followed by Real Estate Agents Finder (81), Wyndham Vacation Resorts (82), Monmouth County Association of Realtors (86), Prudential Real Estate (91), ForeclosureToGo.com (92), Cyberhomes (95), National Home Management Solution (96), and TourFactory.com (99).
The nine sites bumped from the top 100 were: Reply.com, Rental Properties Online (101), Houses JustListed (102), TenManagement.com (103), eHSBR.com (104), crye-leike.com (105), HouseValues.com (113), Bid4assets (123), and Movoto Real Estate (124).
Fast-moving Web sites included Homescape.com, up 100 places to 112; CanyonLakeChamber.com, up 694 places to 930; Texas Unclaimed Property, up 50 places to 77; Weir Manuel Realtors, up 548 places to 947; Prudential DeHOFF Realtors, up 395 places to 723; Imprev, up 370 places to 714; MoveThat.co.uk, up 681 places to 1,254; MultipleListing.com, up 58 places to 130; FrontDoor Real Estate, up 24 places to 57; and RealEstate.UnionTrib.com, up 1,007 places to 1,799.
The top 10 search terms were realtor.com, zillow, remax, zillow.com, real estate, century21, www.realtor.com, homes for sale, remax.com and realtor, Hitwise said.
***
What's your opinion? Leave your comments below or send a letter to the editor.