Depository institutions reported 64,816 cases of suspected mortgage fraud in 2008, a 23 percent increase from the year before but the smallest annual increase since 2002.
A report from the Financial Crimes Enforcement Network (FinCEN) shows growth in suspicious activity reports related to mortgage fraud ranged from 41 percent to 44 percent from 2005-07 after peaking at 93 percent in 2004 (see chart below).
Last year, mortgage fraud was ranked third among 21 categories of fraud covered by suspicious activity reports, up from fifth in 2007, FinCEN said.
Double-digit increases were also seen in reports of suspected check fraud, consumer loan fraud, wire transfer fraud, commercial loan fraud, credit card fraud and debit card fraud, FinCEN said.
A single report may indicate several types of suspected fraud by the same suspect. When depository institutions reported suspected cases of identity theft, for example, about 35 percent of those cases also involved suspected credit card fraud or one or more other violations such as check fraud or consumer loan fraud.
While increases in reporting of suspected fraudulent activity could mean that there is an increase in fraud, it may also reflect an increase in awareness within financial institutions detecting such activity, FinCEN Director James H. Freis Jr. said in a press release.
Lenders are more aware today of the types of mortgage fraud being perpetrated, and are more likely to file suspicious activity reports, he said.
Other experts have noted that falling home prices often expose cases of mortgage fraud that had previously gone undetected. Borrowers who are unable to flip houses may end up defaulting on loans they obtained through misrepresentation, for example.
The FBI this week issued a new report on mortgage fraud based on numbers for the government's fiscal year 2008, which ended in September.
The FBI had 1,644 mortgage fraud investigations ongoing during the period, a 37 percent increase from the previous year and a 100 percent increase from fiscal year 2006. Some 63 percent of all pending FBI mortgage fraud investigations involved dollar losses of more than $1 million, the report said.
"While the amount of mortgage fraud cannot be precisely determined, industry experts agree there is a direct correlation between fraud and distressed real estate markets," the report said. "As the housing market continues to decline in response to an increase in housing inventories (and) lack of sales, and new foreclosures surface, real estate values will continue to soften and fraud will continue to increase."
The FBI said emerging schemes include reverse mortgage fraud, credit enhancement schemes, "builder bailout" schemes, foreclosure-rescue schemes, serial property flipping, and short-sale schemes.
The FBI created a National Mortgage Fraud Team in December and continues to support 18 mortgage fraud task forces and 53 working groups, the report said.
A bill signed into law May 20 by President Obama, the Fraud Enforcement and Recovery Act of 2009, is aimed at doubling the number of FBI mortgage fraud task forces and closing legal loopholes that have prevented federal prosecutors from filing fraud and money-laundering charges against many mortgage lenders (see story).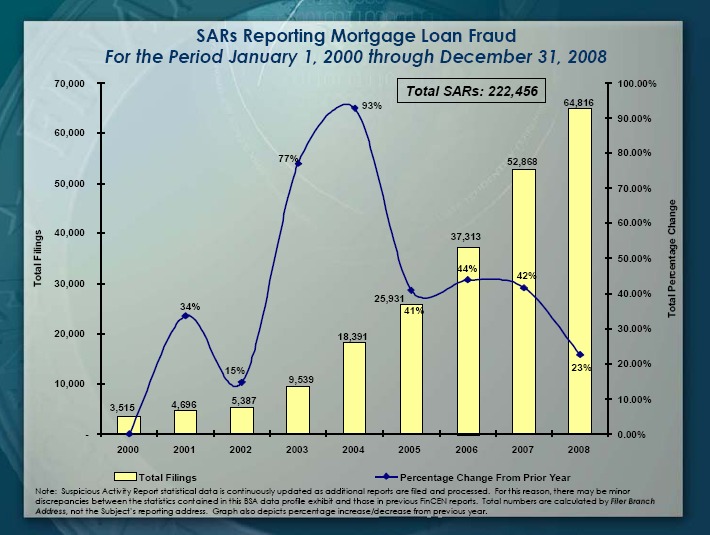 ***
What's your opinion? Leave your comments below or send a letter to the editor.