Editor's note: Inman News has embarked on an editorial project, "To be a broker," that will include a series of broker profiles, guest essays and other content to enlighten our audience about the everyday and uncommon challenges that real estate managers and owners are facing, and their changing business strategies and coping mechanisms to triumph in turbulent times. We are offering two free passes (for new registrants only) for the upcoming Real Estate Connect conference in New York City, which runs Jan. 13-15, 2010, to the creator of the best guest submission that is published at Inman.com. The deadline for submissions is Friday, Nov. 6. Click here for details.
SAN DIEGO — An industry veteran with more than 35 years of real estate experience, Rick Hoffman has worked through several housing market cycles and is no stranger to the challenges and adjustments brokers face during housing downturns.
As president and chief operating officer of NRT LLC's Coldwell Banker Residential Brokerage in the San Diego, Calif., area, Hoffman — along with other real estate managers — has coped with the current housing market and economy by adjusting the company's operating model.
"To me, the downturn was probably a big positive. It caused me to operate more efficiently and be more cost-conscious," Hoffman said. "The marketplace has required that we (brokers) make decisive moves."
One of those moves has been the elimination of a portion of the brokerage company's brick-and-mortar overhead.
"Five years ago the model for a real office was maybe 10,000 square feet — now you don't require that," said Hoffman, who currently oversees the operations of 23 offices and nearly 1,200 agents. "An agent can operate from a Starbucks having a cup of coffee as well as he could at a desk."
With a large population of tech-savvy agents and brokers comprising the real estate community, the industry will be moving further away from the traditional real estate office and more toward the smaller, condensed office that has the ability to service consumers electronically.
A move to fewer and smaller offices equates to cost savings for brokerages like Coldwell Banker, which can redirect those dollars toward services such as agent training.
"You're required to spend those dollars in the technology that pushes the consumer to you," said Hoffman, the 2004 San Diego Association of Realtors broker of the year.
Redirecting money into Web, transaction and marketing technology is key for Coldwell Banker when it comes to retaining the best agents and attracting new recruits.
Also key to retention and attraction is the training a brokerage provides its agents.
"We continually offer them (agents) constructive training on the electronic side. It's a value to them and they can apply it (the training) immediately," he said, citing classes for the brokerage's "mature agent base" that focus on engaging via social media sites such as Twitter, Facebook and LinkedIn.
For newer and more established agents, Coldwell Banker has offered short-sale-focused classes and training for more than three years — Hoffman noted that the brokerage understood early on that distressed properties would play a big role in the market's recovery. …CONTINUED
With the spread of agent teams, the brokerage also offers training for assistants who work under agents as team members.
"We can do things smaller brokers can't," he said — the company's size provides a budget for new technology and agent training that isn't available to some smaller and boutique brokerages.
He said that the resources of Realogy, Coldwell Banker's parent company, has assisted the company to invest in new software and other technology. "When you have a large company with a major amount of assets — even in a constricting economy — (such companies) have a better chance at being able to scale the introduction of new technology into their companies."
Simply put, technology is expensive and for a brokerage to buy software or a new product one at a time or for several agents is "not a small business model," he said. However, if that software is purchased to service 1,500 to 2,000 agents, the costs may be more manageable.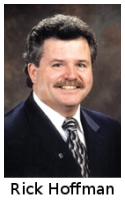 Having the ability to provide software and technology that some smaller brokerages can't tap into is one way Coldwell Banker remains relevant to agents, he said. Larger brokerages also have the scale to provide extensive marketing materials, he noted.
For instance, Coldwell Banker recently introduced a free magazine dubbed "View" that appears as an insert in local newspapers.
"It's expensive but we found the consumer was looking for a traditional vehicle to draw them to the Internet," he said.
Gaining market share
It can be a difficult task for brokers and brokerages: becoming more cost conscious and efficient while increasing market share during a period of economic shrinkage.
For Hoffman and Coldwell Banker agents, one solution is a return to fundamentals such as geographic farming: with agents and local offices marketing to a specific area or neighborhood on a continuing basis.
"We have to develop a consumer awareness about our expertise in different operating areas," he said. "The consumers need us again."
While sellers are in need of qualified agents, sellers have also become more knowledgeable, which means they expect an agent to stage the home correctly, price it right the first time, and establish a solid, sophisticated marketing plan.
A significant amount of that marketing plan revolves around the Internet, Hoffman said. …CONTINUED
"The Internet still plays a very complex role in the initial contact with the consumer and the marketing of the property," he said. "The agent has to perform by giving more valued information (via the Internet) to the consumer."
The majority of agents understand that the visual presentation of a home and property is absolutely critical to engaging an online audience.
"It doesn't work to put two or three pictures on the Internet, randomly snapped," he said, adding that an online listing should include a virtual tour or at the least a significant amount of still photography detailing the features of the home.
With foreclosures continuing to flood the marketplace, another obvious way to gain market share during a downturn is to get active in working with distressed properties.
"We have to service the short-sale and REO (banked-owned property) community because until we get that inventory under control we're not going to have a normalization of the market," he said.
"In a short sale we have to be nimble enough to provide the banks with the details they need to make an informed decision," he said, explaining that Coldwell Banker has interviewed a number of banks in developing a standardized short-sale presentation package.
Development of the package helps ensure the stacking of documents and the information required by a lender is provided by an agent the first time, speeding up the transaction and eliminating the need for corrections, he said.
Looking ahead, Hoffman said he wouldn't predict when the state of the local home sales market would improve, though local monthly transaction activity is a good indicator to use when gauging the state of the market.
Spanning the past six to nine months, overall home sales activity in San Diego County has been stable or has slightly increased when compared to the previous month's activity.
"The main thing is consumer confidence in the market," he said, adding that the $8,000 federal first-time homebuyer tax credit has aided the housing market's recovery.
"If our representatives will entertain doing the same homebuying credit across the board for all consumers, then I think you start to see a real healing process happen."
In addition to his role at Coldwell Banker, Hoffman has served as a multiyear director for the California Association of Realtors and San Diego Association of Realtors. In 2005, he also served as chairman of the board of Real Estate Business Services, a wholly owned subsidiary of CAR.
Erik Pisor is a freelance writer in California.
***
What's your opinion? Leave your comments below or send a letter to the editor.