Bank of America — which has more mortgages eligible for the Home Affordable Modification Program (HAMP) than any other participating loan servicer — continues to lag behind the industry average in modifying troubled borrowers' loans, according to the latest report from the Treasury Department.
Through the end of November, Bank of America had made trial or permanent modifications on only 14 percent of the estimated 1 million HAMP-eligible loans it's servicing that were delinquent by 60 days or more, the Treasury Department said.
That compares to an industry average of 24 percent, and a 30 percent benchmark achieved by seven other participating loan servicers including CitiMortgage (43 percent), JP Morgan Chase (31 percent) and Wells Fargo (30 percent).
The report said the 78 loan servicers who have signed agreements to participate in the HAMP program — and another 2,300 lenders servicing loans owned or guaranteed by Fannie Mae and Freddie Mac who are automatically eligible to participate — have made more than 728,000 modifications since the program got off the ground in May.
Because it has the greatest number of HAMP-eligible loans, Bank of America can still claim to have made more trial and permanent loan modifications than any other servicer — 156,962.
Bank of America "once again leads the industry with the highest number of both active trial modifications and offers extended under HAMP," the company said in a statement. "This clearly demonstrates Bank of America's commitment to this important program and to our distressed customers who are seeking solutions to sustain homeownership."
The next three largest HAMP loan servicers — JP Morgan Chase, Wells Fargo and CitiMortgage — have roughly the same number of HAMP-eligible, 60-day-delinquent loans on their books as Bank of America, which acquired a large number of problem loans in its acquisition of Countrywide Financial.
Those three servicers posted a combined total of 341,057 active trial and permanent HAMP modifications through the end of November — more than double the rate achieved by Bank of America.
Borrowers granted trial loan modifications under HAMP must make reduced payments for three months, and provide full supporting documentation such as proof of income for trial modifications to become "permanent," with fixed monthly payments that expire after five years.
Bank of America, which had only moved 98 borrowers into permanent modifications at the end of November, said it's picked up momentum in converting borrowers currently in trial modifications.
The lender said it had 50,000 customers who had completed the required three months of trial payments but had not submitted any or all of their required documents prior to their December deadline. Bank of America said it's helped another 10,000 customers complete the document collection and underwriting needed to make their modifications permanent. …CONTINUED
The $75 billion HAMP program, which provides financial incentives to lenders, loan servicers and homeowners to enter into loan modifications, remains on track to provide a "second chance" for up to 3 million to 4 million borrowers by the end of 2012, Treasury Assistant Secretary for Financial Stability Herbert Allison said Wednesday.
But a Congressional Oversight Panel overseeing the $700 billion Troubled Asset Relief Program (TARP) issued a report this week concluding that as currently designed, HAMP is likely to prevent only a fraction of a projected 8 million to 13 million foreclosures anticipated in the next four or more years (see story).
The panel noted that few HAMP trial modifications have met a goal of becoming permanent after three months, and that a high percentage of loans that are permanently modified are likely to redefault. The panel also noted that HAMP can't help borrowers who have lost their jobs and have less than nine months of unemployment benefits remaining, or those who owe more on their mortgages than their homes are worth.
The latest report from the Treasury Department shows loan servicers have converted only 31,382 trial modifications to the "permanent" phase, in which monthly payments are reduced for five years.
Allison said the Treasury Department was "disappointed" with the pace at which trial modifications have been made permanent, and has streamlined the application process for servicers and borrowers and introduced "punitive measures" for servicers who don't meet HAMP program obligations.
The HOPE NOW Alliance, a coalition of loan servicers created during the Bush administration, says its member have completed 2.64 million loan modifications and repayment plans for at-risk homeowners in 2009 outside of the HAMP program. That means total workouts for the year exceed 3.3 million, versus an estimated 783,000 foreclosure sales, the group said.
"Our number one priority is to convert HAMP modifications, but also do our best to help borrowers with all solutions available," HOPE NOW Executive Director Faith Schwartz said in a press release. "This sometimes means a graceful exit via short sale or deed-in-lieu if a borrower has no other options."
According to the most recent Mortgage Metrics Report from the Office of the Comptroller of the Currency, loan servicers under its jurisdiction signed off on 23,102 short sales during the second quarter of the year, a 35 percent increase from the previous quarter and an increase of 146 percent from the year before.
Deeds-in-lieu of foreclosure — in which homeowners deed their home back to their lender in exchange for a forgiveness of debt — totaled 1,032, down 14 percent from the previous quarter, but up 19 percent from a year ago.
Although short sales were up dramatically, they still represented only "a small percentage of total loss-mitigation actions," the OCC report noted.
By way of comparison, loan servicers reporting to OCC and the Office of Thrift Supervision (OTS) foreclosed on 106,000 homes during the quarter, an increase of 17 percent from the previous quarter but down nearly 10 percent from a year ago. (The report covered only loans serviced by national banks and federally regulated thrifts, whose loans make up about two-thirds of outstanding mortgages). …CONTINUED
The Obama administration recently released the guidelines under which it will provide incentives for loan servicers and homeowners to engage in short sales and deeds-in-lieu of foreclosure when borrowers who are eligible for HAMP don't qualify for a loan mod.
The guidelines for short-sale incentives bar loan servicers from requiring that real estate brokerages reduce the commission stated in the listing agreement as a condition of approving a short sale, and allow homeowners to receive preapproved short-sale terms prior to the property listing (see story).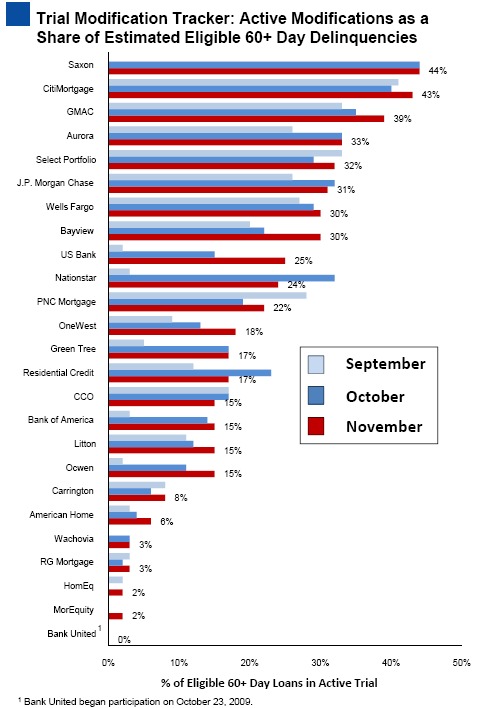 ***
What's your opinion? Leave your comments below or send a letter to the editor.