Krisstina Wise, broker for the GoodLife team Inc., an Austin, Texas-based real estate company, says real estate agents and brokers must be "customer obsessed" to survive in this changed market.
Wise, who in 1998 launched Agent Elf, a real estate systems management and customer relationship management tool, and in 2005 co-founded agent referral company OnePoint Refferal, is speaking at the Real Estate Connect conference in New York City, which runs form Jan. 13-15, 2010.
She responded to a set of questions posed by Inman News:
1. What do you see happening in the real estate market in 2010?
The simultaneous shift in the market, along with the emergence of social media and new technologies, has changed the real estate game. I see the revenues and incomes of traditional brokerages and traditional agents continuing to decline unless they can innovate and adopt new technologies and systems to deal with these changes.
Buyers and sellers will demand more from their agents to compensate for the value they are paying for. Agents will demand more from their brokerages to get more value for what they are paying for.
2. What advice do you have to help real estate agents and brokers get through this market?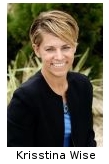 Real estate is not immune to the fundamental shift in consumer behaviors and expectations. If real estate agents and brokers are going to thrive in this new market, they must be technology-centric and customer-obsessed. Brokers must offer leading technologies, fundamental and specific marketing strategies and execution, back-end support, quality control and performance measurement, all in the name of providing value to the tech-savvy consumer and the real estate agent.
Agents must be experts at social media marketing. In the early 2000s it was about building a seductive Web site that would engage consumers and cause them to act. This is still essential, but it is no longer enough.
The Web and social media have changed the game of marketing. Today's consumer expects you to go to them and they demand that you see them as a person, not a sale. Agents can no longer sell and tell. Today's consumer will no longer tolerate that behavior.
3. What made you join your current company?
I left what I call the "big-box broker" in 2007 in order to turn the GoodLife team from a small-time team into a niche broker with the vision of ultimately becoming the real estate brokerage of the future. I assessed that the big-box brokers would not be able to innovate rapidly enough to provide me and my team with the resources needed to compete in the changing market.
In addition, I had spent the previous 10 years building a trusted identity in the marketplace. I realized that no matter how good I was, my identity would always be at risk at a traditional brokerage.
Let's face it, not all real estate agents are the same. As long as I was at a big-box broker, I was being evaluated by consumers not only on my own skills and capabilities, but those of the average or lower-than-average agent at that brokerage.
I knew that I wanted to build a brokerage of highly skilled, individually reliable, and collectively disciplined professionals.
4. What's been your biggest challenge in running the business?
In 2009 we completely redesigned our Web site to serve the needs of today's buyers and sellers. We moved off of Top Producer onto Salesforce as a full contact-management and quality-control system. We designed and rolled out a complete social media marketing system.
Instead of sending our agents to a vendor to learn social media, we built the social media strategies and tools inside of the organization to enable our agents to be social-media savvy. These are just a few of the innovations we have put into place this year to survive and thrive in this down market. Needless to say, the biggest challenge has been the workload required to innovate and execute on these new innovations. …CONTINUED
5. What new features are in the pipeline?
We continue to hone and perfect our performance-measurement technologies enabling us to preload call lists for our agents based on their individual business goals and then measure their progress against those goals.
We are rolling out new technologies that will enable us to create an integrated, cohesive message on social media, regardless of the size of our organization.
We are building new features into the second version of our Web site that will be very lifestyle-focused; continuing to position ourselves as the Web site of choice by buyers and sellers in Austin.
6. What lesson did you learn in the last year?
Referral-only business no longer works. Just a few years ago, 100 percent of our business came from referrals. This year, 30 percent of our closed business has come from the Web. That means we would have had 30 percent less revenue had we not employed Web and social-media technologies.
7. What would your second career choice be and why?
If I had to choose a different career, I would convert apartments and buildings into modern boutique hotels.
8. What is the biggest problem in the real estate market today, and how would you fix it?
Because today it is a technology game, it is impossible for an individual agent to deliver all of the tools and services required to adequately serve the buying and selling public. An individual agent lacks the technology, marketing, quality control, contract-to-close, communication and support that will be required to take care of customers.
Most brokers are offering less and we (strive to offer) more. This means that we are partnering with our agents to offer much of the technology and support that cannot be afforded and executed by one person.
Brokers will have to design a new value proposition to their agents so that their agents can deliver a new value proposition to their clients.
9. What do you most enjoy about working in the real estate industry?
We have the privilege of taking care of the needs of buyers and sellers with their most important asset. I see that people at the top of this industry are so far removed from the public and their needs, as well as the needs of their agents. I think that moving forward we need to get one-on-one with them both and never take the privilege of working with the customer for granted.
10. Tell us something we don't already know about you …
I'm an entrepreneur, thought leader, wife of Garry, mother of Kael and Macy, best friend of Kelly, a lover of life, real estate, yoga, running, books, red wine, and extra-dirty vodka martinis.
My favorite quote is by Toby Hecht: "You are either becoming or just becoming old."
I'm after an uncommon life — I call it a "good life."
Hear Krisstina Wise speak during the "Connect Case Study: How Two Agents Used Technology to Create Huge Businesses" session at the upcoming Real Estate Connect conference in New York City. Click here for details.
***
What's your opinion? Leave your comments below or send a letter to the editor.