Executives at Realtor.com operator Move Inc. expect mortgage delinquencies and tightened credit standards will continue to weigh on home sales at the upper end of the market in 2010, restricting spending by the real estate agents and brokers who drive the company's business.
Move's annual report — filed Friday, one day after the company announced a $4.5 million net loss for the final quarter of 2009 — sheds light on why Move expects revenue to decline by as much as 12 percent this year, and details the cost-cutting measures taken to trim losses.
At 951 full-time employee equivalents, Move's headcount at the end of 2009 was down 19 percent from the year before, dipping below the 1,000 mark for the first time since 1999 (see chart).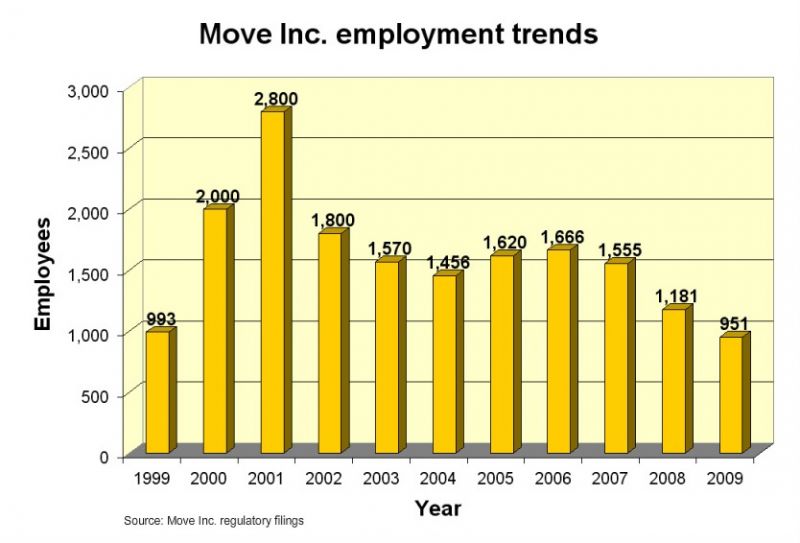 Move trimmed operating expenses by 14 percent from 2008, to $175 million, making cuts in every area but product and Web site development, which grew by nearly 6 percent to $27.8 million.
In a conference call with investors Thursday, Move CEO Steve Berkowitz detailed new products launched in 2009 and said the company is developing additional products to help it take advantage of Realtor.com's position as the most visited real estate site on the Internet.
Thanks in large part to its partnerships with the National Association of Realtors and licensing agreements with 900 multiple listing services, Move's Realtor.com site is acknowledged as the most-visited real estate site on the Web.
In February, Realtor.com had nearly twice the market share of its closest competitors, Zillow and Yahoo Real Estate, according to Web metrics firm Hitwise (see story).
According to the company's annual report, Move views its primary competitors for online real estate advertising dollars as HomeGain, Google, Market Leader Inc., NewHomeGuide.com, Tree.com, Trulia, Yahoo Real Estate and Zillow.
New Move products include Facebook widgets, Ask a Realtor, Realtor blogs, a Realtor.com iPhone application, and Realtor.com Search Assist display ads. 
Realtor.com's new Search Assist display ads allow agents or brokers to e-mail listings to consumers who register with Realtor.com in the neighborhood they are searching.
Similarly, Realtor.com offers agents and brokers the ability to buy "Featured Homes" display ads by ZIP code, geotargeted "Featured Agent" display ads, and "Featured CMA" ads that display their knowledge of local market conditions.
Move said "Featured Homes" display ads account for a dwindling percentage of Realtor.com's revenue, however — 9 percent in 2009, down from 11 percent in 2008 and 13 percent in 2007.
Move's Top Producer customer relationship management (CRM) software accounted for 11 percent of revenue, down from 12 percent in 2007 but unchanged from 2008. …CONTINUED
Showcase listing enhancements — upgrades that real estate agents pay for to add more photos, virtual tours, videos and printable brochures to basic listings — continued to be Realtor.com's single biggest moneymaker, accounting for 39 percent of revenue in 2009. That's the same percentage as 2008, but remains up from 35 percent in 2007.
In 2006, Move said many customers began to shift their advertising dollars away from print media such as newspapers and real estate guides to the Internet.
As the housing market declined in 2008, the advertising spend by many large brokers and agents slowed, and some medium and smaller brokers and agents reduced expenses to remain in business, sending Move's revenue into decline in 2008 and 2009, the company said.
"2009 was difficult for the real estate market and it is not expected to improve in 2010," Move management warned investors in the company's annual report. "Entering 2010, delinquencies are expected to continue to be double that of foreclosures, causing uncertainty in the price floor within various markets.
"This, coupled with the fact that banks have significantly tightened their credit standards for mortgage loans, will make home purchases in the upper end of the market that much more difficult. We believe these market conditions will continue to put pressure on spending by real estate professionals and brokers in the next year."
Revenue, which fell 12 percent in 2009 to $212 million, could fall by that much again this year, Move executives said, to between $186 million and $192 million.
Move was able to trim its net loss from $34.3 million in 2008 to $12.2 million last year, thanks to cost-cutting measures that included a 16 percent reduction in sales and marketing expenses, to $78.1 million, and a 16 percent reduction in general and administrative expenses, to $64.9 million.
Move slashed its advertising costs nearly in half, cutting spending on online advertising, portal fees, keyword buys, e-mail campaigns and other trade advertising from $30.1 million in 2008 to $16.5 million last year.
Another expense Move no longer has to contend with is reimbursing former CEO W. Michael Long for his business use of his plane.
Long's 2002 employment agreement required Move's predecessor, Homestore, to reimburse him for the operating costs of his Dassault Falcon 20 business jet as Long flew from his home in Texas to Homestore's Westlake Village, Calif., headquarters. Those costs were estimated at $1,165 per hour of flying time.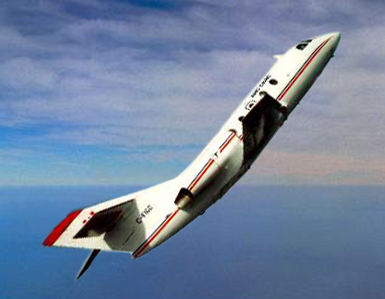 Source: Canadian Space Agency. This photo shows a Falcon 20 jet used by the Canadian Space Agency to conduct zero-gravity experiments.
Move disclosed Friday that it reimbursed Long a total of $2.9 million for the use of his jet in 2007 and 2008. Long — hired to lead a new management team in the wake of a financial scandal and management shakeup — was replaced by Berkowitz, the former CEO of search site Ask.com, in January 2009 (see story).
Since Move's founding in 1993, as InfoTouch Corp., it's amassed losses of $2 billion, making a profit in only two years — $20.9 million in 2006, and $500,000 in 2005, Move said in its annual report.
The company changed its name to Homestore.com Inc. in 1999 and to Move Inc. in June 2006.
Over the years, Move has accumulated $939.4 million in gross net operating loss carry-forwards it may be able to use to offset the company's future federal income taxes, and $382.7 million in carry-forwards that could help reduce state income taxes, the company said.
***
What's your opinion? Leave your comments below or send a letter to the editor.