Editor's note: This is the first in an occasional series of articles about unique and unusual real estate and architecture, written by Seattle-based real estate agent and blogger Marlow Harris. If you'd like to share some interesting homes with us, please comment below or send a letter to the editor.
Atlas Obscura is an online guide to wondrous, curious and bizarre sites across the globe. Its range is varied and global, and the site includes a section featuring strange and unusual homes and architecture in the U.S.
And this Saturday, March 20, is Obscura Day — a sort of global open house event for some of the extreme homes and exotic attractions around the world that are featured at the site (click here to view a full list of tour sites).
In West Palm Beach, Fla., for example, you can trek through the abandoned streets of Unit 11 in the Everglades on Saturday. While this failed housing development has been uninhabited — by humans, at least — for 40 years, it has become a home for wild boars, carnivorous plants, and exotic birds living amid a suburban rectangular grid of forest.
And in Detroit, the Heidelberg Project — which has transformed homes in a two-block area on Detroit's East Side into an outsider art environment — is opening its doors for the event.
Also open that day in Austin, Texas, is the Cathedral of Junk. Using an estimated 60 tons of other people's junk, Vince Hannermann has been forming the Cathedral of Junk for just over 20 years. Hidden behind his suburban home lies this fantastic structure, comprised entirely of castaway items.
And don't forget the incredible home of Samuel Dinsmoor in Lucas, Kan. The Garden of Eden, dubbed one of the "Eight Wonders of Kansas Art," includes Dinsmoor's eccentric home and his sculpture garden.
Dinsmoor was a farmer, mason and political radical who often attended meetings of the rational "free thinkers." He displayed this free thinking in the construction of his concrete house, concrete barn, concrete pyramid and a concrete spring that he supplied with water by illegally tapping into the town's water main.
For those who are curious about these eccentric properties, the Obscura event is a rare chance to view some of these incredible homes. Some of the owners have passed away and the properties have been turned over to nonprofit organizations, but others are still owner-occupied.
And most homeowners, I've discovered, love to show off and talk about their strange and unusual homes. …CONTINUED
I spoke to Dylan Thuras, the founder of Atlas Obscura, and asked if he owns an offbeat or unusual home. Sadly, he does not, though apparently he has a large taxidermy collection within his home.
Thuras provided a rough outline on the types of homes and real estate that would merit inclusion in Atlas Obscura.
"Basically, we try to focus on places with a good back story, more than just the obviously quirky. So a castle home built over a period of 25 years by one guy is more our cup of tea, than say, just a home shaped like a shoe (though we very well may be interested in that, too)."
He added, "We are looking for places that inspire wonder, curiosity and amazement. They don't have to be obviously weird, either, and sometimes the most unassuming-looking house may have the greatest back story."
I asked him if he had any favorite's among the odd houses featured at Obscura. "It is hard to pick a favorite, but I am currently particularly excited about the Minister's Tree House (near Crossville, Tenn.) and the Onan Gold Pyramid House (in Wadsworth, Ill.), as the Atlas is organizing a trip out to both of these on Obscura Day."
The Atlas Obscura Web site features many other unusual homes that will not be featured in the Obscura Day tours, too, such as the New Orleans Tree House, a five-story home built in a golden rain tree.
The structure, composed of materials gathered from the wreckage of Hurricane Katrina, is over 50 feet high and includes bedrooms, a lookout tower and a waterslide.
Also noted is the incredible beer can home of John Milkovisch in Houston, Texas. He consumed 39,000 cans of beer over 18 years to create a magnificent homage to beer.
He linked pull-tabs into long streamers that chime in the wind.
The Web site also features a house carved into a rock in Southeastern Utah that has 14 fabulous rooms arranged around huge pillars, a fireplace with a 65-foot chimney drilled through solid sandstone, and a deep French fryer and a bathtub built into the rock.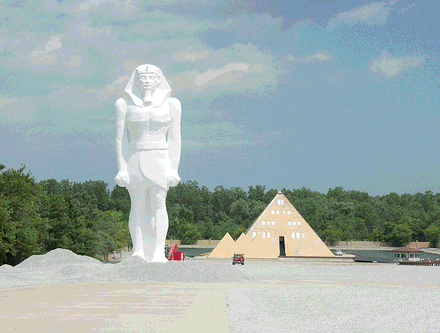 These homes and structures across the U.S. will be featured in tours on Saturday, March 20, as a part of Obscura Day. Photos courtesy of AtlasObscura.com.
Marlow Harris, an agent with Coldwell Banker Bain Associates in Seattle, Wash., writes about unique real estate in the Unusual Life blog. She also blogs at 360digest.com.
***
What's your opinion? Leave your comments below or send a letter to the editor.