The number of homeowners in foreclosure or behind on their mortgages continued to decline in March, but inventories of real estate owned (REO) homes repossessed by lenders climbed to a new high of 1.1 million, according to the latest report from Lender Processing Services.
The total number of non-current loans, which includes 30-, 60- and 90-day delinquencies and loans in the foreclosure process, fell 8.6 percent from February to March, to 6.3 million, LPS said. It was the second consecutive monthly decline in total non-current loans, which fell to their lowest level since July.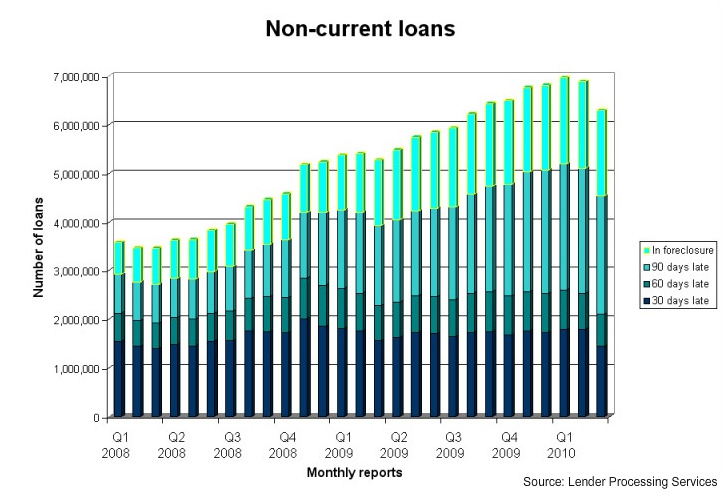 The decrease was attributed in part to a 19 percent decline in the number of loans becoming delinquent for the first time, and to increases in loan "cures" to all-time highs as trial loan modifications under the Home Affordable Modification Program become permanent. Delinquent loans were also "self curing" at rates equal to or near historic highs, LPS said.
Although it's typical to see seasonal improvement in loan performance from February to March, "Clearly there's something going on here beyond the seasonal improvement," said Herb Blecher, vice president, LPS Applied Analytics.
More than 230,000 homeowners had received permanent HAMP loan modifications through March, with another 108,000 offers pending acceptance by borrowers, according to the latest report on the program. An additional 781,000 borrowers were in HAMP trial modifications, the report said.
LPS said new problem loans remained above the national average in Nevada, Arizona, Florida and California. …CONTINUED
Inventories of REO properties, which surpassed the 1 million mark in August, grew by 24,000 homes from February to March, a 2.3 percent increase. Looking back a year, REO inventory was up 19.5 percent.
Blecher said the increase could be evidence of a "shakeout" in the HAMP program, as lenders move forward with foreclosure proceedings on borrowers who were granted trial modifications but failed to stay current on their payments.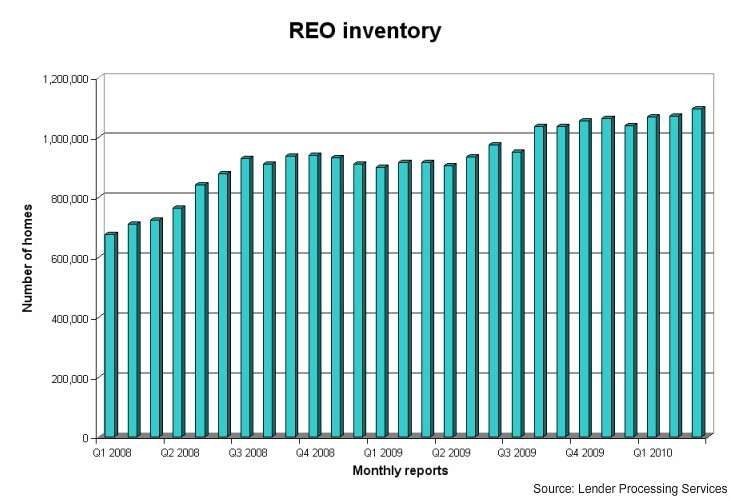 LPS identified eight states where foreclosure inventories were above the national average: Florida, Nevada, New Jersey, Arizona, Illinois, Indiana and Ohio.
Some analysts fear that so-called "shadow inventory," including REO properties that haven't yet been listed for sale, could undermine home prices. But estimates of shadow inventory vary greatly, with some of the most alarming forecasts assuming that nearly all homes with non-current loans will end up back on the market (see story).
***
What's your opinion? Leave your comments below or send a letter to the editor.