NearBuy, a real estate search application for the iPhone, is one of the most popular free real estate apps. But it wasn't born in a Silicon Valley startup or as a brokerage investment. It began as a class assignment that led to a contest entry by a scrappy team of four college students.
Their NearBuy app for searching for-sale properties has been downloaded about 100,000 times, and a separate search app they developed for rental properties has been downloaded about 75,000 times. One of the team members is now a programmer at Google.
Back in September 2008, Anthony "Tony" Brown was an undergraduate at the University of Missouri looking for a place to rent the following year. When one of his classes challenged him to think of an idea for an iPhone app, he thought of the apps he was using at the time in his search.
"I sat there thinking there had to be a better way than just looking at lists of things. Apps that I looked at were helpful, but not helpful enough," Brown, 21, told Inman News.
The apps available at the time mostly returned initial search results in a list, not on a map, he said.
"And if it were to show them on a map, you'd have to tap through several times (to get to the map) and you wouldn't be able to see all the listings in relation to one another," Brown said. He named apps from Zillow, Homes.com, Real Estate Hunter, Redfin and Trulia among the real estate category leaders at the time.
Brown said NearBuy was the first real estate app to map multiple properties in its initial search results.
At the time, Brown was pursuing a degree in convergence journalism, one of the university's newest majors, which was designed to teach students how to deliver the news in multiple media platforms.
The university's Reynolds Journalism Institute holds an annual student competition to create applications using new technologies. For the contest's second year, the platform chosen was the iPhone.
After hearing about the contest, Brown recruited three graduate students studying engineering and computer science to form Team NearBuy and jump into the fray.
Peng Zhuang, a computer science doctoral student at the time, lead the programming effort. The other two programmers were Zhenhua Ma, a doctoral student studying electrical and computer engineering, and Dan Wang, also a computer science student.
None had programmed in the iPhone programming language — Objective C — before. It took about six months from the initial concept to develop the app, Brown said.
Brown was working toward a degree in journalism and a minor in business, and he applied the skills he learned in both specialties to his roles as the project manager, designer and head of marketing. None of the team members had a background in real estate.
"We built it for ourselves as something we could use as we live in our own little city," Brown said, referring to the university town of Columbia, Mo.
The team pulled the national property listings data from Craigslist, Oodle and Google Base through their free application programming interfaces, or APIs.
"We did look into finding a way to pull (multiple listing service) listings … since (the data) tends to be more reliable. But because (MLSs are) so closed and expensive to be a part of, we thought it would not be in our best interest," Brown said.
"The way it is now, we rely on third parties, and a lot of real estate agents are frustrated that (the data isn't) the most reliable."
The team completed NearBuy's real estate app, focused on for-sale properties, in March 2009, and launched a rental search app, "Apartment Search – NearBuy," three weeks later. The team also launched a listings manager app that allows real estate agents or sellers to upload their listings to Google Base.
The latter app hasn't been a smash hit — it's only been downloaded about 2,000 times, Brown said.
The real estate app shot up to second place in the iTunes store and held that place at least through September. Their success won them a place at Apple's Worldwide Developer Conference last June.
"I think it was a combination of a couple things," Brown said about what led to the real estate app's popularity. "It was reliable, it helped that it was free, and it pulled a lot of features together that people were looking for. I certainly think the map was the center of that."
The app also provides demographic information, allows users to contact a listing agent in two taps, and lets users share listings information through Facebook, Twitter or e-mail, he said.
The app also "'synthesized' a better listing from available information," Brown added. "If there were a listing on Google Base that had three pictures and the listing from Oodle was missing pictures, but had a longer description, it actually combined those for an ultimate listing."
Look through the app's reviews on iTunes, and the app only gets a paltry two stars — and there's a likely culprit for that. As part of the competition, the students got to pull from a $3,000 fund they used for server space to promote the app, but the app was so popular in the months after its launch that it overwhelmed the server that the team had rented.
"Our server service was calling us just about every week to upgrade," Brown said.
The competition fund expired in July, and by December the full-time students could no longer afford to keep paying for server upgrades. That forced them to "go dark" — the app was inoperative for about three months (mid-December to March) while the developers sought server alternatives.
The university's computer science department eventually stepped in to host the application. The team announced the app's return on March 1.
The team is not planning to sell the app anytime soon, and is open to developing the app for other platforms, "but (we) have to find the time to do so first," Brown said.
Brown just finished his bachelor's degree and will stay at the University of Missouri to complete his master's degree in the coming school year. Ma and Wang are still working toward doctorate degrees. Zhuang has received a doctorate's degree and just accepted a position as a programmer at Google.
Both Zhuang and Brown said their NearBuy experience didn't make them any money directly, but it was a great resume-builder.
"It's opened doors for other opportunities, including development work for local news service Newsy.com. We have (built) all of their mobile apps," including an iPad app, Brown said. The Newsy iPhone app was ranked among the top five news apps in November.
"Having experience developing top-ranked commercial products helped me stand out from my peers. I also think NearBuy, as my first mobile project, helped me find what I want to do — mobile development — in the next five years," Zhuang said, the day after arriving in Mountain View, Calif., to begin his new job.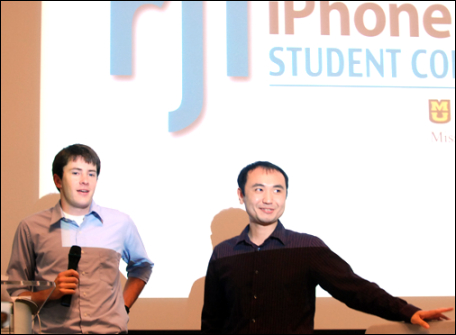 NearBuy app developers Tony Brown, left, and Peng Zhuang, right. Photo courtesy of Reynolds Journalism Institute.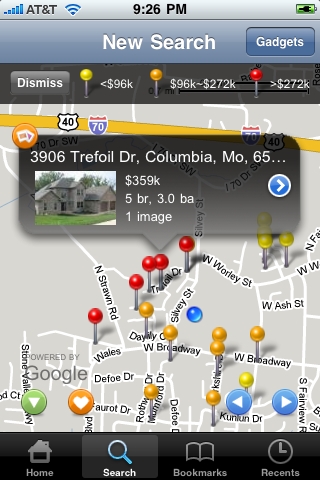 NearBuy screenshot.
***
What's your opinion? Leave your comments below or send a letter to the editor.