The Federal Reserve's quantitative easing (QE2) announcement was so perfectly pre-leaked that credit markets did not move on the fact (exception: 30-year Treasurys, see below). Other knees jerked: the dollar fell and commodities rose, presuming inflation from QE money-printing.
The reaction to QE2 thus far is off the point: "It's the economy, stupid!"
The economy in October actually showed some signs of life — not health, but an end to the summer's downtrend. Payrolls picked up 151,000 jobs (details were not so "strong"); the twin Institute for Supply Management October surveys beat the prior month and forecasts: manufacturing to 56.9 from 54.4, and the service sector to 54.3 from 53.2.
Industrial production jumped 2.1 percent in September, and autos to a 12-million annual pace, gently improving all year.
Housing is still deteriorating. The brand-new guide to underwriters at Mortgage Guaranty Insurance Corp. (MGIC), covering 73 metro areas, found 27 "stable," all the rest "weak or soft." Of the stable, 12 are softening, leaving only one metro area in five truly steady.
The Fed said this week that it would buy $600 billion in Treasurys, mostly 3- to 10-year, about $75 billion per month through June 2011.
Given an estimated $1.3 trillion annual deficit, $110 billion per month, and given that only one-third of that borrowing is in maturities three years or longer, maybe $30 billion monthly, the Fed will shrink the supply of long Treasurys at a pace 2.5 times the rate of new issuance.
Contrary to misinformation from a lot of should-know-betters, the printed-money payment for these bonds will not lie inert as bank reserves. This cash will land in civilian wallets, the equivalent of pitching C-notes out of helicopters crisscrossing the U.S.
Doubt "Helicopter Ben" (Federal Reserve Chairman Ben Bernanke) at your peril: He meant exactly what he said back in 2002.
The Fed will also buy another $35 billion of long Treasurys per month to replace mortgage-backed securities (MBS) as they are refinanced off of the Fed's balance sheet.
That operation is neutral to the total supply of bonds in the system, but certainly will reduce the supply of Treasurys, driving investors to buy riskier IOUs and adding to the supply of private credit.
Long-to-intermediate rates for everything (Treasurys, corporate and municipal bonds …) are going to stay down or drop. Perversely, mortgages may not fall, as the Fed swaps out of MBS.
The Fed said it would "adjust the program as needed," but offered no specific targets that would guide its calibration — neither interest-rate, economic, nor inflation.
Hunches: The Fed is late, should never have stopped QE1, and the new program is the smallest and slowest option considered. If it does not open bank and securitized ("shadow") credit channels, QE2 will have little economic effect.
The one QE2 surprise: only 4 percent of the Fed's buys will be in the 17- to 30-year range, and there the Fed may have tipped its hand and told us what to watch. If 30-year T-bonds — pure market, no QE2 effect — rise in yield, they will signal future inflation and overdone QE.
Upon the QE2 announcement, yields on 30s soared from 3.89 percent to 4.08 percent, but that was momentary panic among those who had bet the Fed would buy wads of 30s. If 30-year Treasury yields fall as QE2 develops, that will signal QE2 too little and too slow, deflation still a risk and the economy not recovering. Watch those 30s every day.
As a political centrist, positioned to annoy partisans of either wing, this election was deeply satisfying. Hell hath no fury like a centrist scorned, and those of us who voted for President Obama and felt they were deceived by a wacko "leftie" in centrist drag were thirsty for retribution.
The ghost of James Madison is thrilled to see bums thrown out of a House that seemed gerrymandered into nothing but safe seats, in the largest reversal by either party in 50 years.
The victors had better get one thing straight before they sit down: Put the nation's business — living within its means and competitive in the world — ahead of partisan posturing.
You're dealing with a center in a foul mood, just itching to throw your sorry asses out two years from now if you don't behave. We are annoyed and itching to repeat that process until the survivors get the message, their parties immaterial.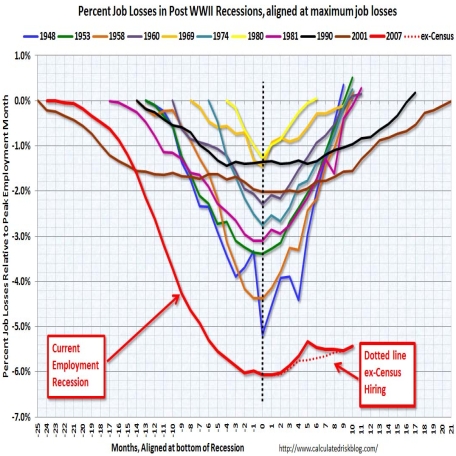 Source: Calculated Risk Blog.