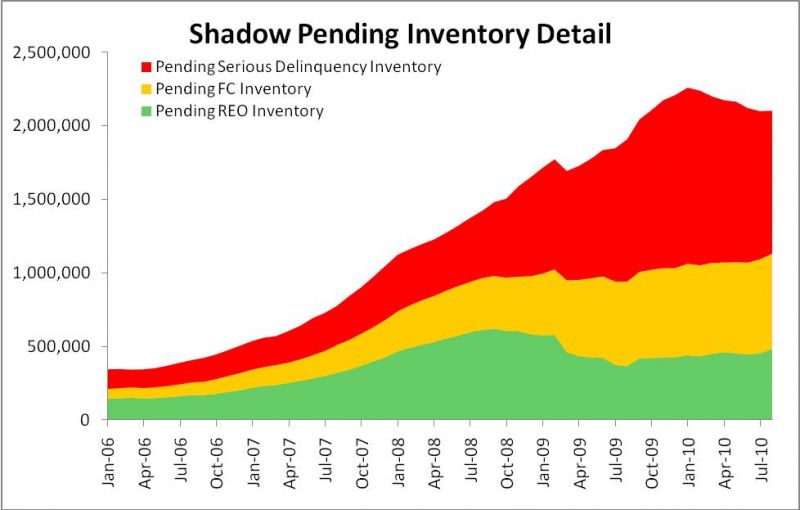 Source: CoreLogic
The "shadow inventory" of homes likely to be repossessed by lenders or already in their real estate owned (REO) inventory but not yet on the market reached 2.1 million units in August, up from 1.9 million a year ago, according to the latest analysis by data aggregator CoreLogic.
Because home sales also slowed, the shadow inventory represented eight months of housing supply, up from five months a year ago, CoreLogic said.
Weak demand for housing is "significantly increasing the risk of further price declines in the housing market," said CoreLogic Chief Economist Mark Fleming — a problem that's exacerbated "by a significant and growing shadow inventory that is likely to persist for some time" because of the length of time it takes loan servicers to liquidate properties.
Combine the 2.1 million "shadow inventory" with the 4.2 million homes that were actually on the market in August, and the total months' supply of unsold homes was 23 months — about double the 11.6 months the National Association of Realtors estimated in September.
(CoreLogic estimates that the "visible inventory" of 4.2 million homes, which NAR's estimate was based on, represented 15 months of supply.)
A six- to seven-month supply of housing is considered a more normal balance of supply and demand.
CoreLogic estimates shadow inventory — sometimes called pending supply — by calculating the number of properties that are seriously delinquent (90 days or more) or in foreclosure that will, in all probability, end up REO.
Although the "roll rates" vary over time, a high percentage of 90-day delinquencies and foreclosures end up in lenders' REO inventories. CoreLogic also counts properties that are already in lenders' REO inventories, but not yet listed on a multiple listing service (MLS), as "shadow inventory."
The size of shadow inventory and its impact on housing markets is subject to much debate, in part because it's not known how quickly lenders will get those homes to market.
But Fleming said there's no escaping the conclusion that shadow inventory will weigh down price appreciation in some markets, and put more downward pressure on falling prices in others.
A large proportion of shadow inventory has not even been foreclosed on yet, Fleming said, and those houses won't enter the market all at once.
"It's not the hurricane hitting the shore, it's just a long and persistent rain, and that dampens the spirit all the way through," Fleming said.