The homeownership rate could fall below 60 percent if homeowners who are deeply underwater end up losing their homes, a new report from mortgage data aggregator CoreLogic suggests.
Some 10.78 million homeowners were "underwater" during the third quarter, meaning they owed more on their mortgages than their homes were worth. About 22.5 percent of all homeowners with mortgages had negative equity.
That's a slight decline from the 10.97 million homeowners who CoreLogic estimates were underwater in the second quarter, but the improvement was driven primarily by foreclosures rather than rising home values. 
So far this year, the ranks of underwater homeowners have thinned by about 500,000, CoreLogic said. But price declines in some markets could bring to an end or even reverse recent improvements in negative equity.
Many underwater homeowners will eventually lose their homes, and in the meantime may behave more like renters, failing to maintain their properties because they have no stake in them, the report noted. 
The official homeownership rate reported by the Census Bureau for the third quarter was 66.9 percent, down from a peak of 69.2 percent in the last three months of 2004.
But if homeowners who have mortgages that equal 125 percent or more of their home's value are excluded from the calculation, the effective homeownership rate was actually 62.4 percent, CoreLogic said.
If all underwater homeowners are viewed as being more like renters than property owners, the effective homeownership rate is currently 56.6 percent, the report said.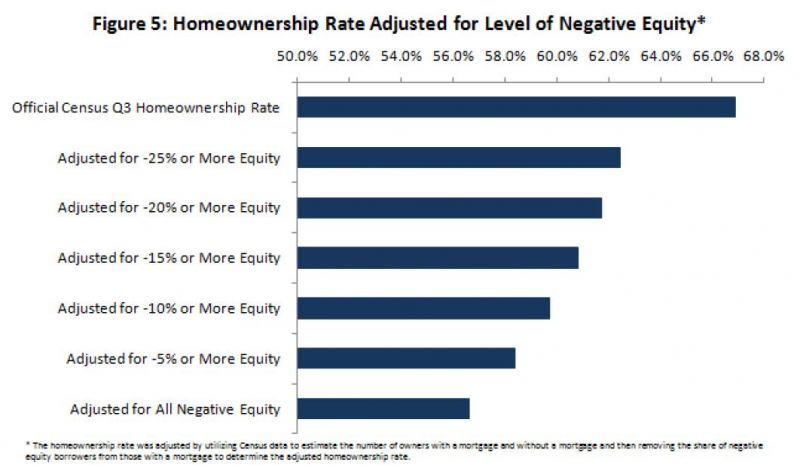 Source: CoreLogic
Although CoreLogic's "alternative definition" of homeownership won't necessarily come to pass — many underwater homeowners are still able to make their mortgage payments and are not in imminent danger of losing their homes — it illustrates the magnitude of the negative-equity problem.
"Negative equity is a primary factor holding back the housing market and broader economy," said CoreLogic Chief Economist Mark Fleming in a statement. "The good news is that negative equity is slowly declining, but the bad news is that price declines are accelerating, which may put a stop to or reverse the recent improvement in negative equity."
Negative equity remains concentrated in five states: Nevada, where 67 percent of all mortgaged properties were underwater, followed by Arizona (49 percent), Florida (46 percent), Michigan (38 percent) and California (32 percent).
States where homeowners are in better shape include New York, where nearly half of borrowers have 50 percent or more positive equity, followed by Hawaii (43 percent), Massachusetts (40 percent), Connecticut (39 percent) and Rhode Island (40 percent).