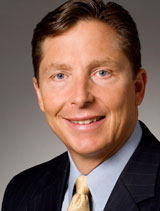 Rick Davidson
Richard W. "Rick" Davidson, a 20-year real estate industry veteran who was named to this year's "Most Influential Real Estate Leaders" list, was promoted in February to president and CEO of Century 21 Real Estate. He had earlier served as chief operating officer of Coldwell Banker Real Estate LLC and president and chief operating officer for Coldwell Banker Commercial Affiliates.
Davidson will participate in a panel at the upcoming Real Estate Connect conference in New York City that will bring together five brokerage brand CEOs from Realogy, the nation's largest real estate brokerage company. The conference, which will mark the 15-year anniversary of Real Estate Connect events, runs from Jan. 12-14, 2011.
He responded to a set of questions posed by Inman News:
1. What is the most important business lesson you've learned in the past year?
Traditional means of predicting the industry's future are not always the most accurate, and properly positioning ourselves for the direction of our industry is both an art and science.
2. What inspired you to pursue your current career path?
I have lived my career serving customers and truly enjoy the opportunity to work with professionals and business leaders in achieving the next level of success.
3. Share a personal experience or anecdote about buying, selling, owning or renting a home.
Homes are selling if they are priced properly. Listen to the experts (the agents with real "feet on the street" knowledge) about what the market demands. Once under contract … be prepared to be negotiated. I put my home on the market in October 2010 and had a contract within the first week (priced right).
Following the home inspection, the buyer attempted to reduce the price further by negotiating on insignificant issues. It was clear what they were after, so I terminated the contract. It's back on the market and having good activity, even through the holiday.
4. What's the coolest technology you've discovered this year, and how are you using it?
The iPad — I love the mobile nature and intuitive nature of the device.
5. What is your advice for real estate industry professionals to thrive in this market?
Use the basics as the foundation of what you do (cold call, canvas, farm past customers, network, serve your client well) and marry that with becoming the expert in a certain aspect of the business (find a niche). Customers are always looking for the expert — never the jack of all trades. Establish your personal professional brand in the market and be the one known for results.
Further, when you have an opportunity to meet with a prospective client — listen. Know what his or her objectives and expectations are and fine-tune your approach to meet those objectives. Become the client's trusted adviser and you will have a client for life. Last, make sure you know how clients want to communicate.
6. What is your favorite non-work-related hobby?
I have five: Family time, fitness, fishing, motorcycling and alpine mountaineering. I find great pleasure in an opportunity to participate in any one of these.
7. Who is your hero, and why?
My parents. I watched them achieve incredible success while never compromising their morals or family relationships. The work ethic I have came from them as well. They were always striving to be the best in everything they did (and still do). They taught me what it meant to be a true professional.
8. What do you view as the biggest problem facing the real estate industry today, and how would you fix it?
Public perception of our profession. Establish higher barriers to entry for licensure and tougher continuing education requirements for sales professionals and brokers.
With technology playing an ever-increasing role in our industry, sales professionals must continue to deliver a differentiating advantage through market knowledge, specific experience and expertise, and negotiating skills.
The greatest thing about the industry is how deep and wide it is. I am constantly learning and as always, I look forward to hearing something new about how to approach the market.
9. Tell us something we don't already know about you.
I am a husband to the greatest wife ever, a father to an incredible son in law school at Tulane University, a brother to two very smart and successful close friends, and a "Big Brother" to a 10-year-old boy in New Jersey.
Hear Century 21 CEO Richard W. "Rick" Davidson speak during an "Inside Realogy" panel at the upcoming Real Estate Connect conference in New York City. He will be joined on stage by Sherry Chris, president and CEO of Better Homes and Gardens Real Estate LLC; Mike Good, CEO of Sotheby's International Realty Affiliates LLC; Jim Gillespie, CEO of Coldwell Banker Real Estate LLC; and Charlie Young, president and CEO of ERA Franchise Systems LLC.