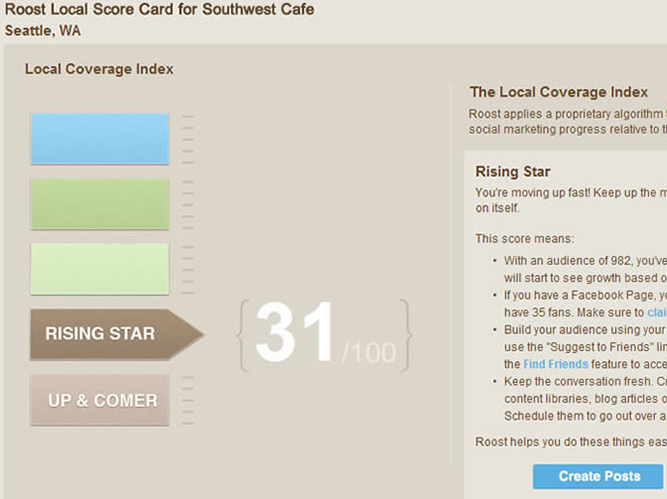 Screenshot of Roost Local Scorecard.

Social network marketing and technology company Roost has launched a scorecard to help small businesses figure out how many of their Facebook fans are local, the company has announced.
The free Roost Local Scorecard analyzes the Facebook "likes" a business page receives and gives businesses an index score between 1 and 100 based on geographic location, local population size, and other factors. The scorecard also breaks down how much of a business's audience is local and provides suggestions for how to improve a business's score.
"Local businesses live and die by the customers in their specific market, so understanding and optimizing this piece of the puzzle is paramount to social media success," said Chris Brubaker, Roost spokesman, in a statement.
"The era of acquiring fans blindly is a thing of the past for today's smart local businesses. After all, not all 'likes' are created equal."
Roost said the local scorecard is the first of a series of free scorecards it intends to provide in the future. The company launched its social marketing platform in March and subsequently signed an agreement to feature the platform as the primary tool in the California Association of Realtors' first social media training program.