It all started with the need to make rent, three air mattresses, and some extra space.
It was the fall of 2007. Roommates and fellow Rhode Island School of Design grads Joe Gebbia and Brian Chesky had just quit their jobs and the rent was coming due on their San Francisco apartment. A design conference was in town and hotel rooms were scarce.
"We started looking around our apartment and had all this extra space in our living room and our bedrooms," Gebbia said.
They also had three air mattresses. Gebbia and Chesky decided to offer their extra space to conference attendees who had yet to find a place to stay, and they threw in a free breakfast.
"We had this concept … of an 'air' bed and breakfast," said Gebbia, now Airbnb's chief product officer. He will be speaking at the Real Estate Connect conference in San Francisco next week.
Gebbia and Chesky set up a website and spread the word through design blogs. Emails from conference attendees needing lodging poured in. The roommates chose three, and the idea for Airbnb was born.
"A lightbulb went off: What if we were to make a website where people with extra space could rent that space?" Gebbia said.
Gebbia and Chesky invited a friend, Nathan Blecharczyk, to join them, and the startup officially launched in August 2008. Nearly three years later, hosts on Airbnb offer short-term accommodations in more than 16,000 cities in 186 countries.
Travelers can stay in apartments, castles, geodesic domes, cars, treehouses, boats, and igloos, among other spaces. In February, the company celebrated its millionth booking.
That growth was not without its challenges, however.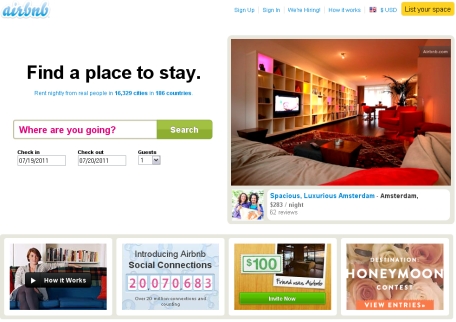 Airbnb.com screenshot.
"We learned the hard way when you're building a marketplace … you have to build supply and demand at the same time," Gebbia said.
Using the metaphor of a store's grand opening, he said, "We had to get the foot traffic and the products on the shelf simultaneously. There were a lot of hurdles for us to get over in terms of adoption."
There were three core ingredients to the site's success, Gebbia said: payments, profiles and reviews. In terms of payment, guests can pay for their stay with a credit card — just as they would for a hotel — and aren't charged until 24 hours after they've checked in "so your payments are secure," Gebbia said.
Profiles are another security measure. Both guests and hosts fill them out and a feature of the site called Social Connections helps users find lodging with people they know through Facebook, mutual friends, people from their alma mater, people with similar interests, or hosts that friends recommend.
The site also includes reviews. Both guests and hosts are invited to leave public reviews of each other after a stay. The reviews are transaction-based for identification purposes, so only those who have used the site's payment system can leave a review.
More than 70 percent of guests leave a review for a host, and 75 to 80 percent of hosts leave reviews of guests, Gebbia said.
Prospective hosts can list on the Airbnb site for free. The company charges hosts 3 percent of the reservation cost and guests a fee of 6 to 12 percent of the reservation cost.
Since its founding, Airbnb has raised $7.8 million from Sequoia Capital, Greylock Partners and other investors. The company has grown from three to 130 employees. In addition to its main office in San Francisco, Airbnb now also has an office in Germany.
"I think Airbnb is a great way for property owners to find some liquidity with the space that they have," Gebbia said.
Most of the site's hosts are over 30, and more than 40 percent of hosts are over 45 — many of the latter with children in college and extra room on their hands, Gebbia added.
For the older demographic, the site helps those with dreams of a bed and breakfast realize those dreams in a matter of days, Gebbia said. And for all hosts, the site "(brings) the world to their living room," he said.
For travelers, the site gives them the ability to "drop into certain neighborhoods and parts of cities that you didn't have access to before," Gebbia said.
For example, there are no hotels in the Lower East Side of New York City or the Mission District in San Francisco, he said.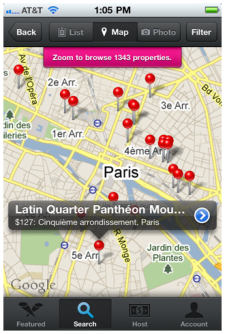 "But when you do Airbnb … you live like a local does," going to the same stores and cafes, he added.
Travelers also get to interact with a local resident — their host — wherever they are staying.
"Stories where you connect with a local seem to be the memorable ones, and we produce those stories every single day," Gebbia said.
And at least one marriage proposal between guest and host has occurred as a result of an Airbnb stay, according to the company.
As Airbnb's chief product officer, Gebbia is in charge of the site's user interface "from the moment you hit the home page all the way through when you check out from Airbnb," he said. "What does that experience feel like? How delightful is it to use? How memorable?"
The company is currently working on providing its users with more support on mobile devices. The company has released an Airbnb mobile app for iPhones (see app screenshot above), and "there are some other (mobile phone platforms) that we want to get to," Gebbia said.
Hear Joe Gebbia, chief product officer for Airbnb.com, speak at the Inman News Real Estate Connect conference next week in San Francisco.