Editor's note: The following is a real estate tech company profile.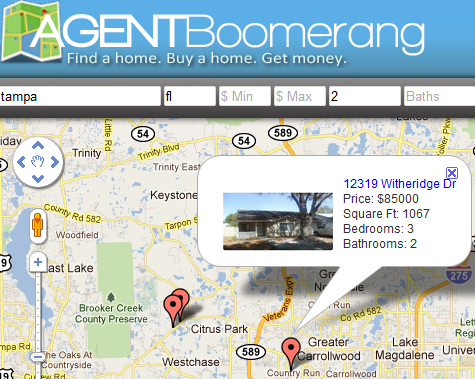 Agent Boomerang screenshot 
| | |
| --- | --- |
| Company name: | Agent Boomerang |
| Website: | www.agentboomerang.com |
| Email: | alex@agentboomerang.com |
| Launch: | August 15, 2011 |
| Founders: | Ken Schiff, Alex Schiff, Chase Lee |
| Headquarters: | Palm Harbor, Fla. |
| Number of employees: | 2 |
| Number of offices: | 1 |
Real estate technology startup Agent Boomerang has rolled out its property search platform in beta, the startup announced today.
The startup launched in its first test market, Tampa Bay, Fla., today and plans to expand to the rest of Florida by the end of the year and to other states beyond. Agent Boomerang is a referral-based company that refers prequalified buyers to agents and charges agents a 25 percent fee when a transaction closes. The company then rebates 60 percent of that fee to the homebuyer in the form of a check, not a purchase credit, the company said. 
The listings on Agent Boomerang are uploaded directly from listing agents who sign up with the site. Agent Boomerang is not affiliated with a multiple listing service. 
Below is a Q-and-A with Agent Boomerang co-founder and President Alex Schiff, an undergraduate at the University of Michigan:
Q: What are the major products and services offered by your company, and the cost of these products and services?
A: Online home search: You can use Agent Boomerang to find a home or a real estate agent in your area. We have developed an innovative search experience in which all of your browsing is done from one page. This is 100 percent free for all homebuyers and 100 percent free for (real estate agents) to list homes. In fact, when buyers close they make money (see business model section below).
Prequalification: We — through a third-party lender initially, but not forever — prequalify users as part of the registration process, getting it out of the way and ensuring that the people we send to agents are both ready and able to buy a home. This is also free for homebuyers.
Referral generation for agents: We drive business to their listings and personal brand through our platform. We think of it as referral generation because we are sending only credible, prequalified clients with a genuine interest to agents and not cluttering their inbox with data-mined leads that have a sub-1 percent conversion rate. (Agents) pay us a 25 percent referral fee only when they close a deal.
Mortgages: Through a third-party lender (for now), we also conduct the mortgages for any interested Agent Boomerang user. This makes it easier since they've already been prequalified by us, but we impose no obligations to do so and they can use whomever they'd like for their final mortgage.
Q: What idea launched the company?
A: The idea began as a referral network between agents called RefNet, but we realized that this market was very crowded and not as large as the one we are now attacking. We interviewed agents, brokers and homebuyers, did some financial projections and realized that Realtors are already paying for leads that don't close — and are procured in sketchy ways — and that there's a lot that can be improved upon with listings sites.
From there, we conceived of a way to drive business to agents in a way that only charges them when we deliver results (a referral fee rather than pay-per-lead). We wanted a unique reason (besides a great experience) for buyers to try us out for their home search, and that's where the rebate came into play. We discovered some "virtual brokerages" in the space that combine an online experience with a buyer rebate. We decided not to adopt this model and employ no agents of our own — we simply provide a great user experience and act as the connector between you and your next real estate agent and/or home purchase.
Q: What is the background of the team?
A: Ken Schiff is the CEO of Agent Boomerang. He has 30 years of experience in the mortgage and real estate industries and working in business development. In addition to leading the organization, he spearheads Realtor outreach.
Alex Schiff is the president of Agent Boomerang. A junior at the University of Michigan, he also has experience in media and business development. He leads product management as well as dabbling in many other areas of the business.
Chase Lee is the chief technology officer of Agent Boomerang. (Lee) has been developing … Web products since he was 11 and is now a junior at the University of Michigan. He spearheads all things tech at Agent Boomerang.
George Muresan is the lead software engineer of Agent Boomerang. (Muresan) is also a student at the University of Michigan majoring in computer science with an eye on getting an MBA after graduation. He does both back-end and front-end development for Agent Boomerang.
Loui Vongphrachanh is the lead designer at Agent Boomerang. (Vongphrachanh) has years of experience and passion for Web design behind her and is also a junior at the University of Michigan. She creates the look and feel of Agent Boomerang.
Q: What is the amount of outside funding received to date?
A: $0. We've self-funded and kept costs extremely low.
Q: What companies have contributed funding?
A: None.
Q: What is the company's core business model?
A: Our core business model is divided into two components.
Referral-generation: We drive business to the listings and profiles of agents and they pay us a 25 percent referral fee on all closed transactions. We rebate 60 percent of the referral fee we collect from the agent to the homebuyer (a sum equal to 15 percent of the agent's commission) and keep 40 percent.
Mortgages: We provide mortgage services for anyone that would like to use us. We do not require any engagement with us for your mortgage besides prequalification as a means of screening for non-serious buyers. As a side note, you can still use the website if you are not prequalified and registered. We just don't activate the contact mechanisms unless you have gone through prequalification. You can still browse homes (and) profiles.
Q: What makes the company's product and service offerings unique?
A: For homebuyers: The unique aspect of Agent Boomerang is that we are applying rebates at a large scale without forcing you to sacrifice service. At existing discount or virtual brokerages, you typically have to do a lot more of the legwork yourself and buyers have not been receptive to this model. We're connecting you with full-service agents but still delivering you a substantial check when you close. We are also providing a user experience and interface that is on the cutting edge of online home search design. Rather than going through (hundreds) of individual listings and refreshing dozens of times, we direct you to one page that dynamically changes.
For real estate professionals: We are not data-mining users for their information and sending agents leads. We see this as fundamentally flawed, and we have shunned the "quickly get their contact information before they realize what we're doing!" model so often seen in lead generation. We deliver only referrals of clients who have been prequalified — meaning that they are serious about their home search, want to buy a home and are capable of doing so. This means less cold-calling and sales pitches for agents, higher conversion rates and a more efficient market.
For everyone: Since we are directly driving buyers to listings, we project that most transactions will be dual-sided ones. This means higher commissions for Realtors, a large referral fee for us, and, most importantly, a substantially larger rebate for the buyer.
Q: What is the company's customer base?
A: Homebuyers and real estate agents (and) brokers in Florida — initially.
Q: Is the company profitable now? If not, when is it projected to reach profitability?
A: We plan to be profitable by the end of the fall.
Q: What are the company's growth plans for the current calendar year?
A:  We are launching in the Tampa Bay area and expanding across the entire state of Florida next. We have opened up registration to all Florida agents, but we will likely make concerted efforts in Orlando and Miami next. After we have covered the state, our next target is California.
Q: What are the company's most popular products and services?
A: That remains to be seen! My favorite aspect is just the elegance of the design and the effort that went into engineering (and then totally re-engineering) the overall experience. That might be because I spent weeks up until 3 a.m. working on it with our designer.
Q: What are the company's main competitors?
A: Redfin, ZipRealty, and, to a lesser extent, other listing sites like Realtor.com, Realestate.com, etc.
Q: Which technology trends and market trends is the company watching most closely?
A: The impact of technology on the online home search, the changing role of the real estate agent, and the overall housing market. We are especially interested in the recent article Inman published about how Redfin and ZipRealty are fiercely resisting the "discount" label and the marketing trends surrounding that.
Q: What new products, product features and services is the company investing in most heavily?
A: Developing our website in a way that changes the way people browse listings.